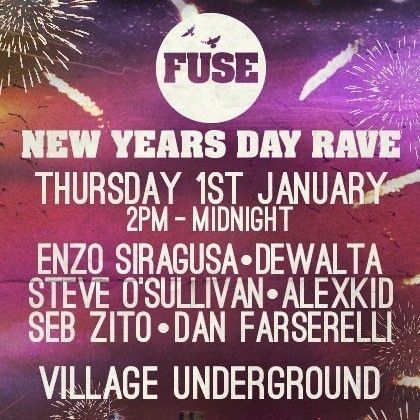 Fuse New Years Day Rave
FUSE is excited to see in the New Year in style by announcing an extra-­‐special New Years Day event at Village Underground in London. Running from 2pm – midnight this New Years Day spectacular will see FUSE regulars Enzo Siragusa, Alexkid, Seb Zito, Dan Farserelli joined by two extra-­‐special guests. Dewalta from Berlin jets over especially for the New Years Day celebrations and is joined by the UK's very own Steve O'Sullivan of Sushitech and Mosaic records fame.

Since its inception in 2008, and having just celebrated their Sixth Birthday, FUSE has established itself as a London institution and a major player on the international clubbing circuit, hosting over 300 successful events across Europe and around the world whilst also launching two critically acclaimed record labels; FUSE LONDON and INFUSE. Having completed another successful season at Sankeys Ibiza this year their stock is a high as ever.

The philosophy of FUSE is simple: to stand out from the crowd by hosting exceptionally high-­‐quality raves, built around superior-­‐technical standards of sound design, and a close-­‐knit core of residents. FUSE ensures line-­‐ups are always well programmed and resonate with the distinctive FUSE sound.

As is always the case, the New Years Day party is one not to be missed, and with such a star-­‐studded line-­‐up you can guarantee they will deliver the perfect soundtrack for partygoers first dance in the New Year.