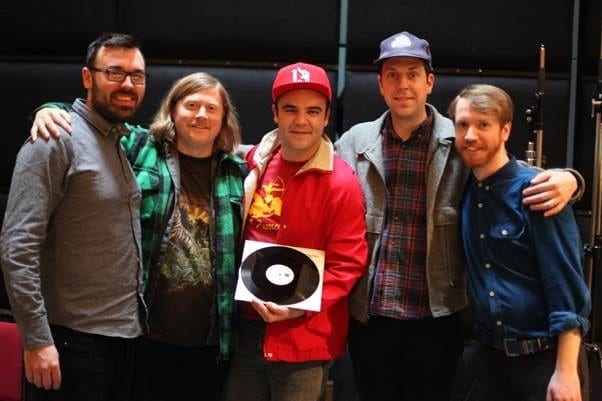 Future Islands Direct to Vinyl at Abbey Road Studios
To celebrate Record Store Day 2015 on April 18th, Abbey Road invited Future Islands to the studios to record a brand new exclusive track called The Chase, direct to vinyl.
The band played live from Studio Three, where the audio was sent direct from the mixing desk by recording engineer Paul Pritchard to one of Abbey Road's vinyl cutting lathes and cut live, direct to disc, by mastering engineer Christian Wright.

An exclusive premiere of this one off recording, accompanied by an interview with Future Islands and Christian Wright will air on April 18th between 7 and 10am on Mary Anne Hobbs' BBC 6Music show. This marks the worldwide exclusive of the band's first new material since the release last year of their critically-acclaimed album Singles.
UK record stores participating in Record Store Day should keep their eyes on Abbey Road's Twitter, Facebook and Google+ accounts today (Thursday 16th April) for news on how to be the only retailer in the world with a one-off lacquer of Future Islands' The Chase – recorded direct to disc at Abbey Road Studios. They can put their shop's name in the hat by sharing or re-tweeting their social media posts. Abbey Road will pick one retailer out at random on Thursday evening and deliver the lacquer direct to their store by Saturday morning.
With nearly a decade of touring and three albums under their belts, Future Islands finally received the attention they deserve with Singles – their boldest and most immediate work to date.
The Baltimore-based trio began 2014 as the toast of SXSW after scooping the Grulke Prize for Developing US Act before winning over a legion of new fans with that TV performance of Singles opener Seasons (Waiting On You) on the David Letterman show, followed by a similarly game-changing appearance on Later…With Jools Holland. Since then, the plaudits poured in, with Singles featuring prominently in critics' album of the year polls, whilst 'Seasons…' topped Songs of 2014 charts in MOJO, NME, The Guardian, Time Out and The Line Of Best Fit.
Abbey Road have continued to offer vinyl cutting services and the recent renewed interest in the format has meant the studio's lathes have been in high demand. Vinyl mastered and cut at Abbey Road for Record Store Day 2015 includes releases by Joy Division, Ride, Deep Purple, Biffy Clyro, Lloyd Cole & Georgie Fame, Procol Harum, Johnny Cash, The Saints, Sylvian and Sakamoto and James Yorkston.
"Future Islands Direct to Vinyl is an unusual take on the concept of Record Store Day, but it's our tribute. It's is in the spirit of the day, and we hope it will encourage listeners to get out there and support their local store" says Christian Wright.
During his 15 years' experience at Abbey Road Studios, Christian has mastered award-winning no.1 albums and soundtracks to no.1 films, plus countess top ten releases. He has mastered albums by Johnny Greenwood, Ed Sheeran, Blur and All We Are, plus tracks for LCD Soundsystem, Radiohead, Tune-Yards, Ariel Pink, Bryan Ferry and Laura Marling.