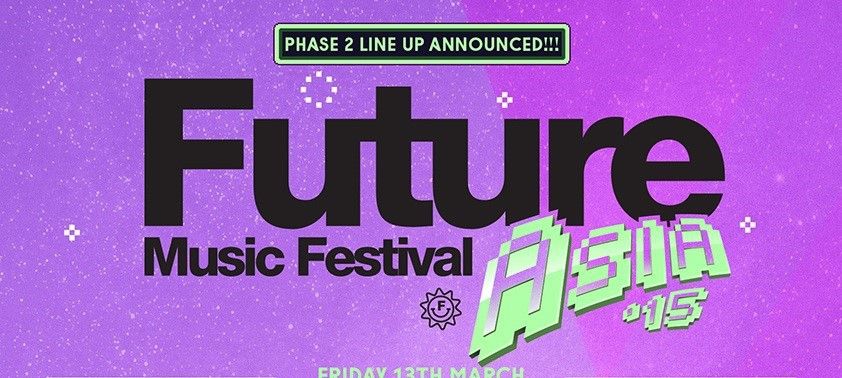 Future Music Festival Announce Full Line up
The organisers of South East Asia's largest music festival, Future Music Festival Asia 2015 (FMFA), Livescape Singapore and Future Music Group Australia today announced the full line up for this year's star-studded music festival.
As part of the Festival's aim of showcasing top-notch musical talents worldwide, FMFA's full line-up will comprise an eclectic blend of critically acclaimed artistes:
INTERNATIONALS (IN ALPHABETICAL ORDER):
1. AFROJACK
2. ART DEPARTMENT
3. AVICII
4. BASSJACKERS
5. BLASTERJAXX
6. DARUDE
7. EXAMPLE
8. FATBOY SLIM
9. FERRY CORSTEN
10. GIORGIO MORODER
11. GREEN VELVET
12. GORGON CITY
13. KNIFE PARTY
14. MARKUS SCHULZ
15. NERO
16. NEW WORLD PUNX
17. PROTOCULTURE
18. PUBLIC ENEMY
19. ROBIN SCHULZ
20. SANDER VAN DOORN
21. SIGMA
22. TCHAMI
23. TENISHIA
24. TIMMY TRUMPET
25. THE PRODIGY
Complementing this stellar line-up are Singapore's own homegrown talents and regional names such as Lion City Boy, Oliver Osbourne, Indiego & Co. x Poptart, Goldfish & Blink and Glen Check, adding spice to the already electrifying ensemble.
LOCALS AND REGIONALS (IN ALPHABETICAL ORDER):
1. ALDRIN (SG)
2. ALTIMET (MY)
3. BOTTLESMOKER (ID)
4. BUDCULTURE (MY)
5. DANGERDISKO LIVE! (MY)
6. AJ ANDREW T (AOS) (SG)
7. DJ BIGGIE (MY)
8. GLEN CHECK (KR)
9. H3 (MY)
10. INDIEGO & CO. x POPTART (MY & SG)
11. JOE FLIZZOW (MY)
12. LION CITY BOY (SG)
13. LTN (ID)
14. MR.HAS (SG)
15. MR.NASTY & GURUGURU (MY)
16. NEZ (SG)
17. OLIVER ORBOURNE (SG)
18. RAH (SG)
19. RAVE REPUBLIC (SG)
20. SONA ONE (MY)
21. TERENCE C (MY)
22. WDTFAA (MY)
23. XU (MY)
24. YA5TH (SG)
These world-class acts will be performing across three stages for the heart-thumping two-day Festival, which is set to take over Singapore's 140,000-square-metre Changi Exhibition Centre, from 13 to 14 March, 2015.
Having attracted over 55,000 people from 85 countries at FMFA 2014 held in Kuala Lumpur, Malaysia, its debut in Singapore is expected to be quite the spectacle.
"Singapore was the obvious destination of choice, because we recognize its value as an international hub and up-and-coming center for music and entertainment in South-east Asia. With Singapore's vibrant calendar of world class events, and exceptional infrastructure, it was only natural for it to be FMFA's next home," Muhammad Iqbal, Group Chief Executive Officer of The Livescape Group said.
"We have never spared any expense in offering our loyal fans the best event experience they can get, and we aren't about to stop now. In addition to the star-studded cast of international, regional and local acts, we also look forward to having a few more little surprises in store for all festivalgoers on-site. With this, we are well placed to create a truly memorable, world-class event to commemorate our Singapore debut, and in keeping with this country's aim of becoming a world-class entertainment destination," Iqbal added.
SUPERNOVA – THE MAIN STAGE
For the first time in South East Asia, FMFA will also be working with world-renowned stage designer, James Klein (www.jameskleinevents.com) to curate its main stage, dubbed the Supernova Stage. James Klein has previously worked on the stage designs for the likes of Ultra Music Festival and Sensation. The multi-storey Supernova Stage at FMFA 2015 will be one of the largest South East Asia has ever seen and is especially customised and built specifically for the festival. The stage includes never before seen pyrotechnics and visuals and extensive giant LED screens.
www.futuremusicfestival.asia