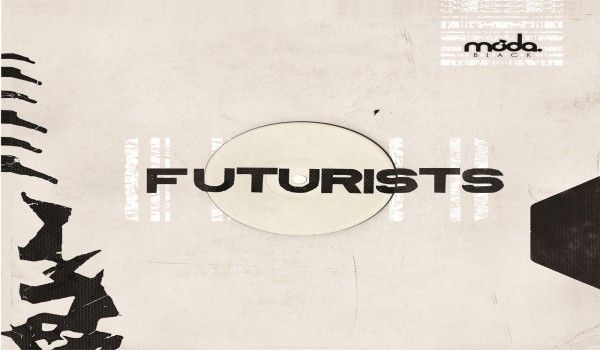 Futurists (2×12)
Jaymo & Andy George's Moda Black launches a brand new project for March 2014 entitled 'Futurists' – a double vinyl collection of forward thinking, underground artists including Sidney Charles, REbEL & Twon, Dudley Strangeways, Fauvrelle, Elias Tzikas, Roberto Palmero, Javi Bora & Le Vinyl and Lrusse & Bleecker.
Since its formation in 2012 Moda Black has developed a global reputation, releasing consistently high quality electronic music from established artists such as Danny Daze, Maxxi Soundsystem and Eats Everything, as well as helping to break newcomers such as Hot Since 82 and Mia Dora. In addition to monthly EP releases, the annual Moda Black albums and artist-lead Little Black Book series have earned the label widespread acclaim. Fuelled by Jay and Andy's unquenchable thirst for new music, 'Futurists' is, in their words, 'a chance to shine the spotlight on some really creative new school producers who are making music for all the right reasons – they're doing things their own way and they're doing it with passion and soul'.
Sidney Charles gets the 'Futurists' package underway with 'Vibe' – a bass heavy groover that has been causing riotous responses whenever it's been road tested – a serious bomb track! Last year Sidney was officially RA's most charted artists, thanks to releases on ViVa Music, OFF Recordings and 8Bit – though it's safe to say his trajectory is still very much skyward, especially thanks to killer tracks like this! This is promptly followed by another killer track from newly formed duo of REbEL & Twon. 'Itchy Fingaz' is a bouncy, low-slung, filtered affair with pulsing vocals and chord stabs. Next up the Moda boys call on Dudley Strangeways – an artist they first met whilst record shopping in Nottingham almost a decade ago. Now, with releases on Klasse, Holic Trax and Albion Records under his belt, Strangeways has become a seriously skilled producer – which is evident with his sonically robust offering 'Call Girl'. Fauvrelle's 'Call Me Back' takes it from here – a pick-me-up, almost tool-like track, with a huge rolling baseline and kinetic percussion, bringing this first slab of wax to a close.
The second 12″ kicks off with Greek producer Elias Tzikas and 'What Am I' – a high energy houser that, when played in the right situation, will cause human tidal waves. Roberto Palmero grabs the baton from here, with a heavy hitting provision of groove-centric house. Although a new name on the scene, Roberto's career already includes performances at Sonar and WMC, as well as releases on LouLou, Noir and his own Pura Music imprint.
Javi Bora & Le Vinyl are a promising Spanish production outfit; between them they've scored releases on 2020 Vision, Robsoul and OFF Recordings, with the former being an official resident of Kehakuma at Space, Ibiza. The duo deliver a progressive tripped-out track entitled 'Memories Of A Great Night'. Driven by tribal-eqsue drums and punctuated by emoment chord stabs, this has become something of an end-of-the-night anthem for J&AG. Rounding-off proceeding, Behling & Simpson transform into their recently conjured Lrusse & Bleecker alias, turning out a dark, dubby, atmospheric monster known as 'Hats And Nuts'.
An impressive and dynamic collection of music from some of Moda Black's favourite up and coming artists, 'Futurists' is released as a double-vinyl on March 17th 2014, with a digital release coming later this year.
http://thisismoda.com