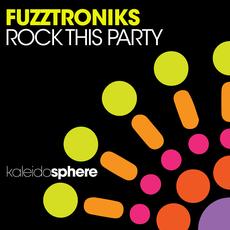 FUZZTRONIKS – Rock This Party
New multi-genre label Kaleidosphere has already hit the ground running with several big releases that are storming a variety of esteemed charts across the globe. Within a few short months, Kaleidosphere has made itself a true contender among today's top labels being sandwiched between Virgin, Armada, Spinnin, Warner and Columbia (just to name a few).
Kaleidosphere artist Billy Winn is the 2nd most added at Billboard (tied with Daft Punk), while their 18 year old discovery Atik Vashisht charted #30 in the DMC Buzz (Ibiza/Night), this followed by upcoming artist appearances on SiriusXM, and massive licensing moves that have permanently cemented this label's industry clout and ability to break talent! Undiscovered talent now have a way forward with a label that invests in their career, not just a fleeting single. For new artists, this is as real as it gets!
One of their discoveries is about to break big with what will surely be a party rock anthem! Here is a song that is as fun as it is fresh, a tune that you can't help turn up and dance to!
Introducing: Fuzztroniks with 'Rock This Party'
(About to break into the Hot Club Chart on Billboard!)
Super funky mixes by Noel Sanger and Moto Blanco are also included for those who require a little less POP in their ROCK. 🙂