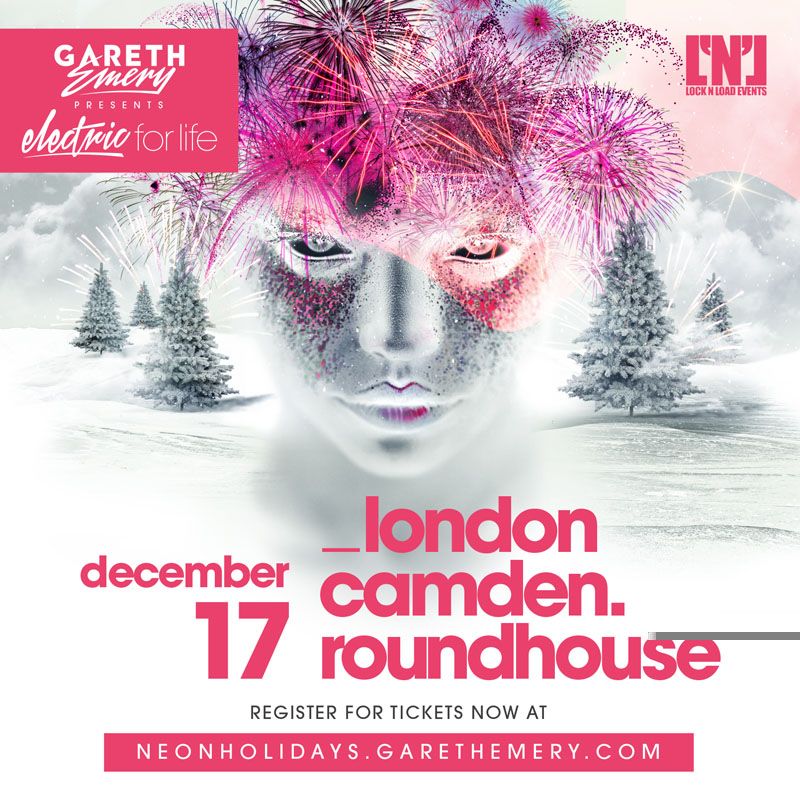 Gareth Emery's Electric For Life – Roundhouse
Gareth Emery has announced he will be returning to London on Saturday 17th December for a special one-off show at London's Roundhouse.
Bringing his beloved Electric for Life concept to the iconic London venue in Camden Town marks an outstanding return for Gareth. Last year's sold out Electric For Life show at Electric Brixton was a huge success and became one of the most talked about events in the electronic music calendar.
This Roundhouse gig is Gareth's final appearance in the UK this year and follows his stunning Electric For Life debut last year, and with a host of special guests still to be announced, the Los Angeles based DJ is set to make a major return at one of the capital's premier music venues.
Due to an expectedly high demand for tickets, registration for this event is essential. The sign up address is http://neonholidays.garethemery.com/ – everyone who signs up will receive an exclusive track: Ed Sheeran vs. Alex Sonata – Bloodstream/ Siren (Gareth Emery Edit).
The Roundhouse's unique round shape lends itself to intimate, mind-blowingly immersive performances and has hosted some of music's most celebrated artists, from Bob Dylan to David
Bowie, and now hosts some of the industry's biggest gigs and festivals, including the iTunes Festival.
In support of his Electric for Life podcast series, the show at the Roundhouse will allow Gareth Emery to showcase a diverse range of sounds and styles, and experiment in ways other performances wouldn't normally allow.
Gareth recently released his third artist album '100 Reasons To Live', featuring contributions from Alex & Sierra, Janet Devlin, Lawson (band) and Christina Novelli.
GARETH EMERY
+ Very Special Guests TBA
THE ROUNDHOUSE, LONDON
SATURDAY 17TH DECEMBER
Register for priority access to tickets & receive an exclusive Gareth Emery Edit of Ed Sheeran vs. Alex Sonata 'Bloodstream/Siren'. http://neonholidays.garethemery.com/
—————————————————————————————————————
Roundhouse
Chalk Farm, London, NW1 8EH
Nearest Tube: Chalk Farm (Northern Line), Camden Town (Northern Line)