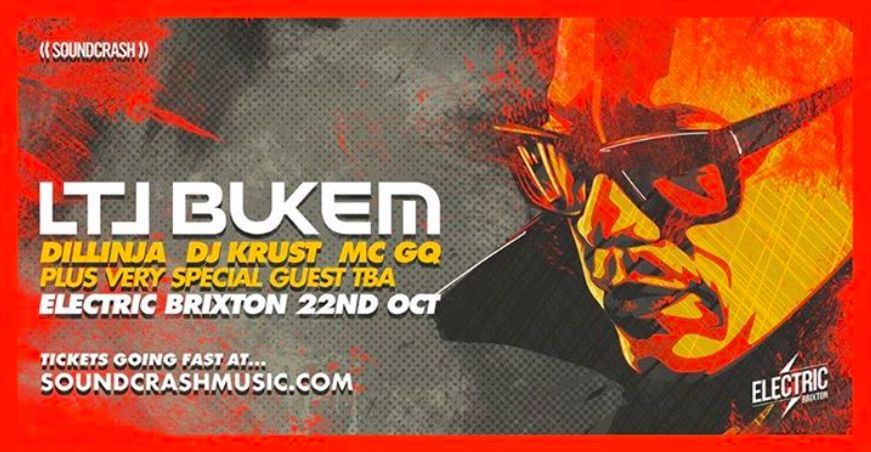 Soundcrash Presents: LTJ Bukem
A rare and special show from one of the greatest figures in drum & bass, LTJ Bukem, is taking place at supervenue Electric Brixton on Saturday 22nd October.
Joining Bukem for the biggest underground drum and bass night of the year are some of the biggest names from the scene including Dillinja, DJ Krust and MC GQ plus a very special guest to be announced.
LTJ Bukem needs no introduction to drum and bass heads, as he is one of the founding fathers of the scene. His classical music training in his teenage years has always come to the fore in his productions, with his jazz fusion and funk influences allowing him to pioneer and nurture new directions within the genre through his label, Good Looking. Along with his quality production, his experience in live productions through his number of club nights including SPEED with DJ Fabio have helped make Bukem a national treasure.
To add to proceedings, Dillinja, creator of The Valve Soundsystem, and one of the most respected and revered producers in the drum & bass scene will be brining his trademark combination of dirty stomach-churning basslines and tighter than tight beats. His reputation has been secured as one of the most influential producers in d&b history, as well as one of the scene's most called-upon remixers, and has worked with David Bowie to Bjork and Basement Jaxx. A true connoisseur of sound, Dillinja's mighty 96k Valve Sound System is recognised the world over.
Drum & bass pioneer and founder of the acclaimed Full Cycle Records with Roni Size, Bristol's DJ Krust will be gracing the decks to give us a masterclass in mixing with his archive of classics as well as new beats. This was witnessed at the sold out Full Cycle Records show at Village Underground earlier this year.
Hosting the night will be MC GQ, who has continued to MC at the top of the chain for 25 years with his unmistakable charisma, presence and distinctive sound. His versatility is such that he has always been able to switch up to double time and tear down a rave, or keep the crowd bubbling to a liquid set.
Promoters Soundcrash present a night of heavy bass and breaks, as four founding fathers of the d&b scene, LTJ Bukem, Dillinja, DJ Krust and MCGQ join forces to take you on a nostalgia trip at Electric Brixton on Saturday 22nd October.
"Drum & Bass will never roll over and die as long as Bukem is around" NME on LTJ Bukem
"Dillinja is the guv'nor." Ransom Note
"DJ Krust is the cool, calculated killer (not literally) and respected godfather of world Drum and Bass production."
http://www.electricbrixton.uk.com
A RARE APPEARANCE FROM LTJ BUKEM PLUS HEAVYWEIGHT SUPPORT FROM DILLINJA, DJ KRUST, MC GQ PLUS VERY SPECIAL GUEST TBA
Date: 22nd October 2016
Time: 23:00 – 06:00
Price: £9.50-19.50+BF
Buy Tickets: http://www.ticketweb.co.uk/event/XUL2210X
18+ (ID Required)