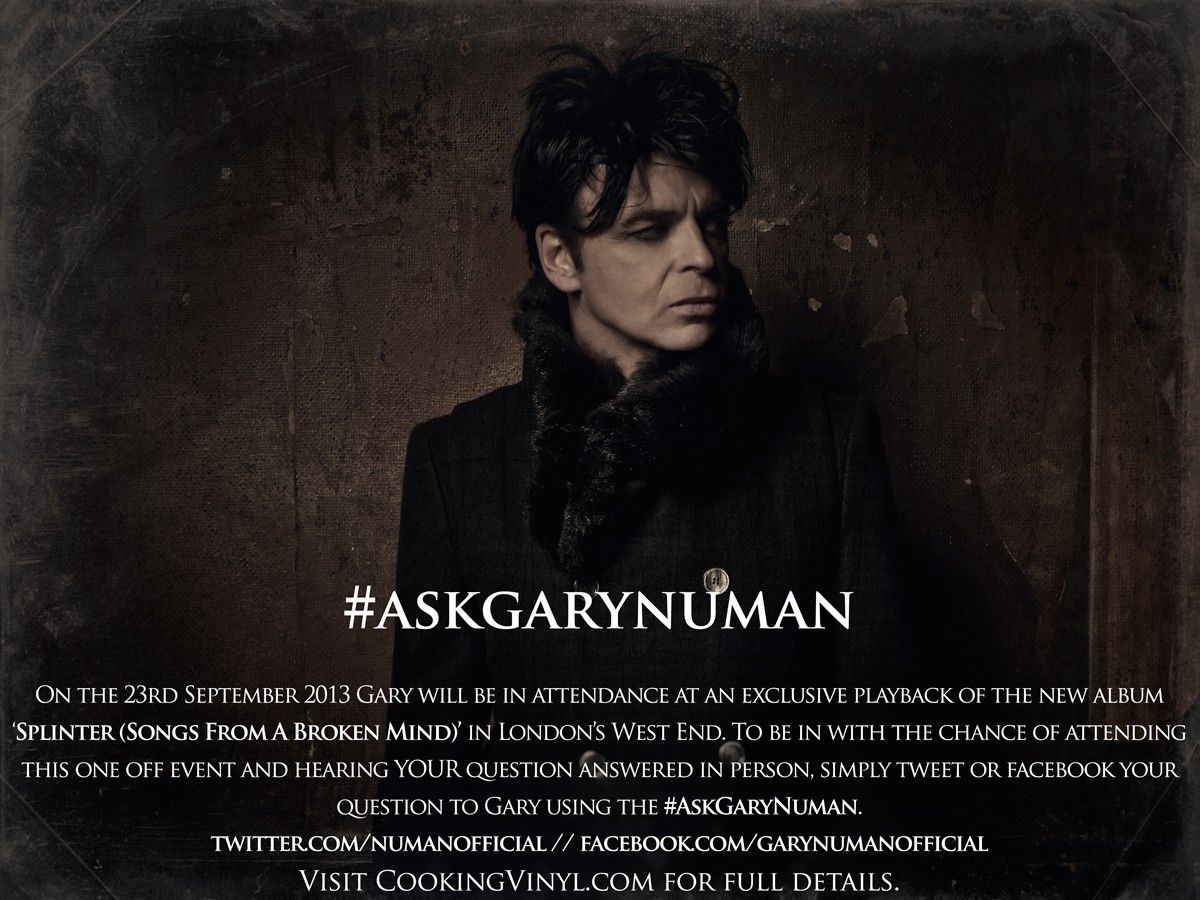 Gary Numan: Playback and meet in London at The Hospital Club
Win the chance to attend an exclusive album playback and meet Gary Numan at The Hospital Club, London 23rd September
Album: 'Splinter (Songs From A Broken Mind) Released October 14th on Mortal Records
Want be one of the first to hear Gary Numan's new album 'Splinter (Songs From A Broken Mind)' and take part in a Q&A with Gary himself, at an exclusive playback event at The Hospital Club in London's West End on 23 September? Simply tweet @numanofficial or facebook (facebook.com/GaryNumanOfficial) your question to Gary using the hashtag #AskGaryNuman for your chance to be part of this special event. Those asking the most interesting questions will be invited to the event to meet Gary, hear the new album and have Gary answer their question in person.

Winners will be chosen on 16 September and notified no later than 18th September at 6pm. You must be able to attend the Q&A in central London on the 23rd September 2013 at 5pm at your own expense.

On 14th October, Mortal Records presents Splinter (Songs From A Broken Mind), the inspired new album by pioneer, chart-topper and influential artist Gary Numan. Featuring guitarist Robin Finck (Nine Inch Nails, Guns N Roses) and produced by long-standing collaborator Ade Fenton, the album will be followed by a full national headline tour in November.

'Splinter' finds Gary on fine dark electronic form; sounding both cutting-edge and classic Numan, it marks his best work since the late 70s, early 80s heyday. Although Numan released a straight-to-the-fanbase album 'Dead Son Rising' in 2011, this is his first self-penned full album since 'Jagged' in 2006.
In recent years he's been quoted as an influence by everyone from Lady Gaga to Kanye West, Matthew Dear to Queens Of The Stone Age, The Foo Fighters, Nine Inch Nails, Prince and J Dilla, to Boyz Noise, Richie Hawtin and Battles (they released a single 'My Machines' on Warp Records with Numan in 2011).
'Splinter' UK Tour, November 2013
7th BRISTOL 02 Academy (£25)
8th DUBLIN Button Factory (25 Euros)
11th SHEFFIELD 02 Academy (£25)
12th NEWCASTLE 02 Academy (£25)
13th GLASGOW 02 ABC (£25)
14th MANCHESTER Academy (£27.50)
15th OXFORD 02 Academy (£25)
16th LONDON Roundhouse (£32.50)
18th BRIGHTON The Dome (£25)
19 WOLVERHAMPTON Wulfrun Hall (£27.50)
Please note, questions can also be submitted via email at [email protected]

For more information about The Hospital Club please visit http://www.thehospitalclub.com/