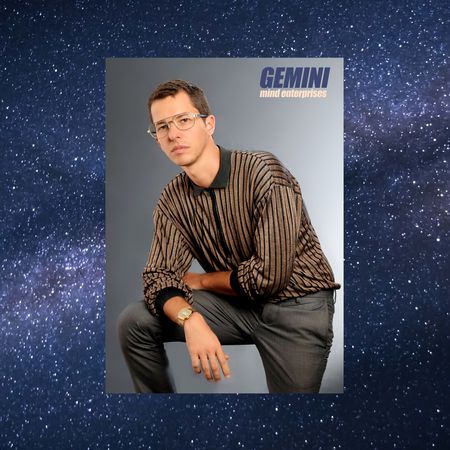 Mind Enterprises - Gemini
Mind Enterprises is a name that's fast becoming synonymous with playful, eclectic dance releases paired with a striking, vintage aesthetic. Following the recent release of twinkling single 'Gemini', the Italian DJ and producer today shares the accompanying visual.

Set aginst the idyllic backdrop of Gran Canaria (where the producer resides) the humorous video follows Mind Enterprises as his inter-galactic fascination leads to a surprise appearance from his zodiac twin. Styled in vintage velour Moschino, his twin embarks on a sun-filled adventure compete with inflatable flamingos, a car theft and ray guns.

Speaking on the video, director Jack Barraclough says,

"Channelling 'the Man Who Fell To Earth', Andrea Tirone stars as an awkward, science obsessed outsider who dreams of being a more charismatic version of himself. Shunned by the scientific community he accidentally succeeds in creating a twin copy of himself from the stars using some mystical astro-physics. Or… If Steven Spielberg abandoned Close Encounters half way through and Hype Williams came in to finish the film."

'Gemini' follows the vibrant release 'S.H.A.K.E', which saw Tirone adopt a Bill Gates meets Tony Montana character in the accompanying video. The colourful video, also directed by Barraclough, saw support from titles including NOTION, Dancing Astronaut and Spindle Magazine.

After journeying into uncharted afro-disco territories with his 2016 album Idealist, Mind Enterprises returned in 2017 with the addictive italo-disco release 'Idol', complete with a spectacular graphic video by Kate Moross / Studio Moross.As well as being named on ShortList's '50 Greatest Songs of 2017', the release received support from a wealth of titles including Mixmag, DUMMY, The Ransom Note, PHOENIX Mag and was remixed by Prins Thomas.

While Tirone has found inspiration in his national heritage, his geographical journey could explain the evolution of his sound. Having escaped his hometown of Turin in 2011, Tirone lived in East London for 6 years before recently relocating to the tropical island of Gran Canaria – "the southest place in Europe", as he puts it.

However, location only tells part of the story – as the name suggests Mind Enterprises has always been about Tirone tapping his own imagination, taking inspiration from a host of eclectic means.