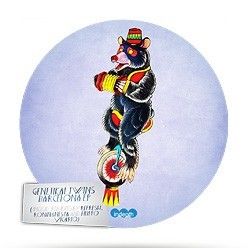 Genetikal Twins – Barcelona EP
What can you expect from Indepth Music but more of the seductive deep and downright grooving tracks they have built their castle on from the very beginning. Now 28 releases deep, their catalog has cultivated an excellent list of home team talent like the featured artists on the Barcelona EP, the Genetikal Twins. The italian duo have been spreading their rich and lustrous sound all over the world, with their productions being played from the likes of Onno, Chris Lattner and Steve Bug, it's no wonder Indepth keeps them so close. Delivering their signature sound in the form of a single EP, they are accompanied by three other fully qualified producers. Giving their take on Barcelona is Refresh, Ronnin & Nesta, and another label favorite, Filippo Vicario for one solid pack of elegant, deep goodness.
The title track kicks things off as the Genetikal Twins take on their twisted ride of minimal deep house. Barcelona oozes sophistication with live drum samples and a straight forward groove but pours on the deeper atmosphere with almost techno style note patterns fluttering in and out at key moments. A menacing and chunky synth line completes the charm of the track seamlessly adding more attitude and energy to the beat. 17 year old Italian producer Refresh has been hitting the deep house world by storm already receiving praise and dropping heat on some excellent labels like Recycle Records. His remix of Barcelona hits perfectly as a mixed beat cosmic journey, playing in the minimal nature of the original and adding his signature swatch of classy deep house
Having previously released on Indepth, Filippo Vicario steps up to remix Barcelona contributing his own mark to the EP. Known for smooth and usually hypnotic sounds with an attention to detail, his take on the original is an excellent endeavor into progressive deep creating special moments throughout his twisted journey. Starting off as Djs and playing on some big bills from Circo Loco to Ministry Of Sound parties, the Beirut duo Ronnin & Nesta take their next step into the production world. Among other solid releases and originals, they collaborate once again on their remix of Barcelona. With an outdoor flair their rendition is a soaring and melodic ride. Using dynamic and big sounds they paint a picture of sunshine and open air bliss. Capturing the many moods one might encounter this coming summer season, Indepth's 28th EP is one to consider heavily for the record bag.