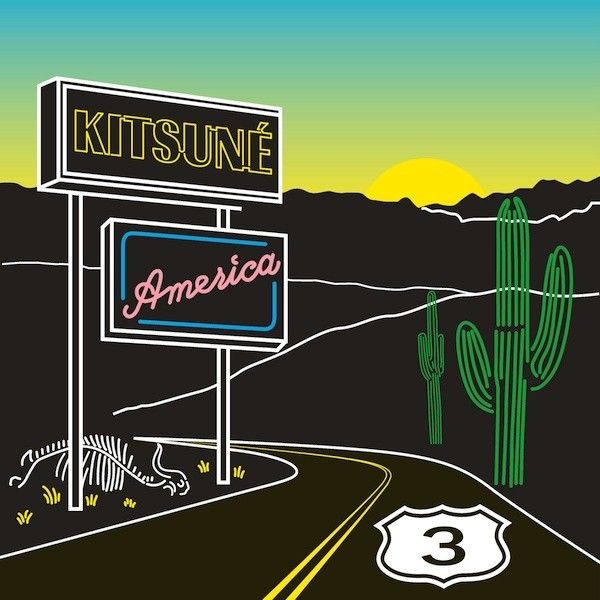 Kitsuné AMERICA 3
If there's one thing Kitsuné's renowned for, apart from stylish garb, it's its flair. So being handed the Parisian label's latest findings out of the talent brewing in the USA today is a proper treat, as Kitsuné AMERICA, the compilation series, never fails to deliver a fresh and innovative selection of offbeat musical snapshots, even by American standards.
The French imprint, instrumental in putting Two Door Cinema Club, Yelle, Hot Chip and numerous others on the map, is conquering the US, picking up the country's own local artists where it's buzzin'. After showcasing Childish Gambino, Toro Y Moi, Theophilus London, Haerts and other prestigious artists on previous Kitsuné AMERICA compilations, this 3rd edition keeps on favouring the thinking-outside- the-box generation, with beats and grooves continuing their growing domination and a slower, cooler vibe for sun-drenched days.
America is feeling adventurous, musicians are letting loose, striking combinations of styles and sounds are taking place, and the audience is listening. A perfect time for boss Gildas to invest in new exciting artists: "We believe in those acts and want to help them develop. Our ear is finely-tuned, we know a good tune when we hear one."
Kitsuné AMERICA 3 is ideal to stream comfy at home or to drive down Route 66 and experience what it's all about.
www.kitsune.fr
www.facebook.com/maisonkitsune
www.twitter.com/maison_kitsune
01 BEAU – Karma
Beau is a duo from NY: two girls, two voices and an appetite for taking on the world.
02 MY BODY – If I Need You I'll Call
Based out of Brooklyn NY, Darren and Jordan formed My Body, a synth pop two piece, with the intention of creating a new sound.
03 SUNNI COLÓN – 1000 Roses
Los Angeles-based 23-year-old Thierry Tetsu is Sunni Colón, an artist/producer with consuming passion. His ballad '1,000 Roses' will give Franck Ocean's fans a run for their money.
04 KELELA – Cut 4 Me
Born and raised outside of Washington DC vocalist Kelela Mizanekristos found her own sound in the music emerging out of LA's underground. She contributes to forward-thinking and experimental songwriting mixing popular and club cultures.
05 LAWRENCE ROTHMAN – Montauk Fling Inspired amongst others by writer Charles Bukowski, artist Cindy Sherman, film scores, R&B and house music, Lawrence Rothman cultivates an inner-sanctum that's as charming as it is personal. This is his debut 7" single.
06 SON LUX – Lost It To Trying (Radio Edit)
Son Lux, Ryan Lott's brainchild, is a grand and baroque electronica project fuelled by numerous collaborations with the indie, urban and classical worlds. The sound of that alternative dreamscape reaching exquisite operatic heights feels both alien and familiar.
07 MISUN – Eli Eli
Effortlessly blending 60's rock & roll nostalgia with hip hop and dance, Misun have self-proclaimed their sound, Aquawave, a deft exploration of sonics and styles which leads to a cohesive and timeless output.
08 HEARTSREVOLUTION – Kishi Kaisei
Having finally completed their debut album, which joins the dots between electro and pop whilst staying true to their DIY punk ethics, NY duo Heartsrevolution could be the Blondie of today.
09 LANE 8 – Nothing You Can Say (feat. Lucy Stone)
Cross-breeding melodic trance and spacey deep house, Daniel Goldstein aka Lane 8 has hit a major chord with his audience and has left San Francisco for Berlin.
10 JEROME LOL – Fool (feat. Angelina Lucero)
Originally part of electronic duo Lol Boys with likeminded DJ/producer Markus Garcia, Jerome's now solo, touring and dropping DIY releases non-stop. His debut EP manipulates satisfaction into melancholy.
11 BRENMAR – Medusa (feat. Rush Davis)
New York City by way of Chicago-based producer/dj Brenmar represents a strange musical paradox. Somehow defying the odds, he marries the bling gloss of r'n'b and hip hop with the urban grittiness of underground dance music such as Chicago ghetto house, UK bass, Jersey club.
12 MAX JURY – Christian Eyes
Every so often a new artist instantly captures both your heart and your mind. Crafting heartfelt, country-tinged, beautifully sung and perfectly executed American music at its finest, Max Jury, a 21 year old from Des Moines, Iowa, is one of a kind.
13 ISSUE – Ten Monks
This 19-year-old follows in his father's footsteps, key rap figure E-40. His extensive mixtape catalogue is characterized by loose, stream-of-consciousness meditations bathed in bizarre soundscapes that hit somewhere unheard before.
14 NAVVI – Speak
Seattle-based vocalist Kristin Henry and producer/multi- instrumentalist Brad Boettger form Navvi, a glamorous Gothic project that builds an ever-changing bridge between experimental and accessible soundscapes.