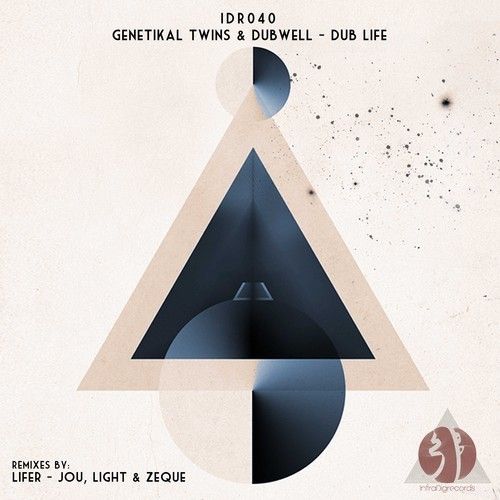 Genetikal Twins & Dubwell – Dub Life
Infradig Records welcomes to the family three superb Italian artists in the form of the Genetikal Twins who this time team up with Dubwell for two great new cuts. On remix duties are Barcelona's Lifer and label boss men Jonathan Jou, Light IDR and Matias Zeque.
Genetikal Twins are two young DJs and producers who have released on Akbal and Dialtone whilst Dubwell is a Chicago talent who makes all sorts of electronic music from house to techno to disco as well as the odd cheeky edit.
Opening track 'Still Dark' is a slow burning bit of dubbed out house music with smeared metal chords and sexy vocal coos riding on top of smooth, rolling beats. It's elastic and bouncy and as a result cannot fail to have you nodding.
The other original is 'How Hard', which again is a mid tempo groover with plenty of heavy dub weight underpinning the economical but effective percussive loops. Perfect for taking you up or bringing you down, it's a classy bit of work that's as subtle as it is sensuous.
It is 'Still Dark' that gets two sets of remix treatments – the first, by Spanish producer Lifer, strips the track back to even less elements, providing a full on dub excursion that encases you in womb like synth warmth and just keeps on rolling. The second from label bosses Light IDR, Jonathan Jou, Matias Zeque is a little more kinetic. This one has a more romantic and soulful little melody riff buried deep within it as distant, subtle effects pan left and right and add ever more layers of depth.
If you like your house music deep, dubby and deliciously reduced, then this EP is perfect for your collection.
Tracklist
1. Genetikal Twins & Dubwell – Still Dark
2. Genetikal Twins & Dubwell – How Hard
3. Genetikal Twins & Dubwell – Still Dark (Light IDR, Jonathan Jou & Matias Zeque Remix)
4. Genetikal Twins & Dubwell – Still Dark (Lifer remix)