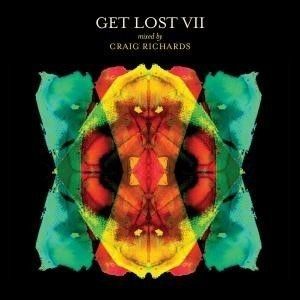 Get Lost VII mixed by Craig Richards
There aren't many DJs you would choose to Get Lost with… However Craig Richards is certainly one. Following on from timeless Get Lost episodes from Acid Pauli and Totally Enormous Extinct Dinosaurs, Craig Richards is renowned for his role as resident and musical director at London's fabric over the last 15 years. This is a rare insight into the aficionado and musical maverick's all time favourite records from his 40 year old collection. The result is an extraordinary adventure named 'Get Lost VII' and a contender for mix of the year.
This is Craig's eighth DJ Mix album, but this is his most personal to date, spanning the sonic landscape from the late 1980's to the present day. The two discs pack as much as you would expect and more, with forward-thinking choices that are instantly gratifying but largely unrecognisable. Disc one is one for the serious music lovers and puts Mr Richard's wealth of experience and vast influences into the spotlight, whilst disc two takes a darker ride through the late night abyss. The collection heeds hard to find rare gems such as Backroom Productions, Black Rascals, 2House and Kenny Larkin, as well as modern vinyl only treats by Mike Ozone, Ruf Dug, STL and Velvet Season & The Hearts of Gold. It also features tracks from Craig's own ground-breaking label: The Nothing Special, with tracks from Trevino, Calibre, dBridge, Keith Tenniswood, Billy Nasty and Craig himself.