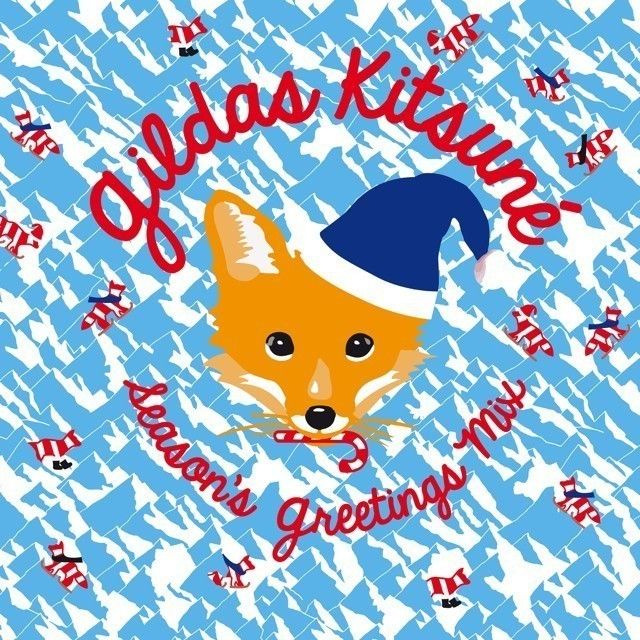 Gildas Kitsuné – Seasons Greetings Mix
The Kitsuné sound goes wintery with a warming selection packed with big tunes, making it a perfect playlist for the Christmas party season.
It's that time of year, family gatherings, celebrations, partying with friends, and what better soundtrack to accompany those special moments than the latest DJ mix from Kitsuné's head honcho? Renowned for his A&R flair, Gildas, has personally hand picked an enviable selection of tunes to deliver a throughly entertaining end of year mix filled with exclusives and hot finds.
House is back in a big way and Gildas feels that can only be a good thing. He explains, "House music is in us, once tasted, you'll always find again those sensations on the dancefloor. It's a real pleasure mixed with joyful emotions to rediscover this classic vibe. Every era's got its revival and we felt Xmas was the perfect occasion to celebrate house's return".
So, just like a swinging house party with its pianos and typical soulful, meaningful vocals, Kitsuné Season's Greeting Mix gathers some of the new names currently making waves. Amtrac remixes Kitsuné's latest disco protégés from down under The Swiss. Horixon team up with Mr Fingers' legendary vocalist Robert Owens for a haunting collaboration. The Magician ft Jeppe 'I Don't Know What To Do' is welcomed back for another round and some fresh contributions from Azari (from Azari & III fame), Clancy, Copy Paste Soul, new cool kids Let The Machines Do The Work and John Talabot's new project Lost Scripts pop up…
But that's not all, Kitsuné's own techy knights Logo have remixed 'I Wish I Knew' from the label's latest hopefuls Years & Years. With their highly personal electronic disco sound Leatherette have made a splash as proved here on the idiosyncratic 'D&T'. Finally one of the loveliest songs this year Classixx ft Nancy – ex-LCD Soundsystem – Whang's 'All You're Waiting For' makes a special appearance.
Gildas Kitsuné Season's Greetings Mix
Tracklist:
1) The Swiss "Kiss To Kiss" (Amtrac Remix)
2) Copy Paste Soul "Motive"
3) Techniques "Switch" (Mike Millrain Remix)
4) Let The Machines Do The Work "'Yes You Say"
5) Cascadeur "Ghost Surfer" (Knuckle G Remix)
6) Outlander "Zero Days"
7) S&M Music Company "Walk Away" (Cyclist Remix)
8) The Magician feat Jeppe "I don't know what to do"
9) Horixon "Lifeline" (feat. Robert Owens) (Kiwi Remix)
10) Clancy "What You Do"
11)Schwarz Dont Crack "Charade" (Dinamo Azari Remix)
12) Classixx "All You're Waiting For"
13) Adelaide "dont blame the lights"
14) Wilfried Giroux "Hustle Pt2"
15) Letherette "D&T"
16) Years & Years "I Wish I Knew" (Logo Remix)
17) Lost Scripts "I'll Be Watching You"