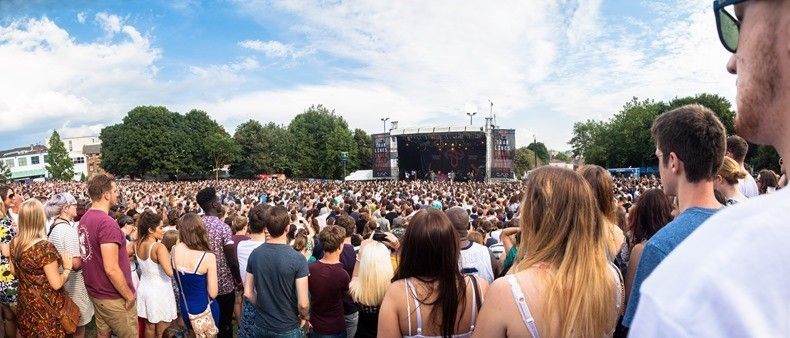 Gilles Peterson, A Guy Called Gerald, Basement Jaxx (DJs), Evian Christ, Romare (DJ), James Holden & lots more added to Tramlines Festival Lineup
The lineup for Tramlines Festival has just got even bigger thanks to an injection of electronic and alternative artists to the 2015 bill. New acts to perform in Sheffield from 24-26 July include Ninja Tune's Romare, 6 Music's Gilles Peterson, the young talent of Evian Christ, the legendary A Guy Called Gerald, a DJ set from Basement Jaxx and many more.
Now in its seventh year with The Charlatans, Basement Jaxx and Wu Tang Clan already in place to headline, Tramlines is one of the UK's most musically eclectic festivals. Held across multiple outdoor spaces and venues across Sheffield city centre, Tramlines is the alternative festival to discover a ton of hot new talent alongside internationally acclaimed acts – and it's seriously good value for money at just £30 for a weekend ticket.

Following their live headline set on the Main Stage on Saturday night, Basement Jaxx will stay on to play an after-hours DJ set at o2 Academy, filling the dancefloor like only they know how. Elsewhere is the hugely talent Romare, whose cut-and-paste production has attracted the attention of fans from across the bass music spectrum; legendary record collector, DJ, producer, label boss and experimental music polymath Gilles Peterson; Kanye West collaborator Evian Christ; the UK's first acid-house producer and the man behind the seminal classic Voodoo Ray A Guy Called Gerald; and Border Community head honcho and trend-setting producer James Holden.
For fans of house and techno, there's plenty on offer as Tramlines has topped up the bill with the minimal warehouse techno sounds of Sheffield's Lo Shea; acid house and techno from Berlin-based Klasse Recordings founder Luca Lozano; and bags of grime-inspired house and techno from Pev n Kowton of the Livity Sound trio.

Keeping its late night programme as diverse as possible, Tramlines has drafted in talent which spans the bass music scenes. Acts include a live set from South London producer Henry Wu, who'll delve into garage, jazz and funk; local residents from the hugely popular Banana Hill night Cervo & JVC, with their flamboyant crossover of African and Latin American sounds and global electronica; emerging hip-hop producer Cypria; dancehall and UK bass artist (and partner in rhythm with Toddla T) Serocee; and from jazz/hip-hop artist Sumochief.
Other new additions on the alternative tip include Sheffield's Blood Sport who, as well as a performing a live set of blistering guitars and techno-gilded polyrhythms, will curate the Tramlines Millennium Gallery Sunday lineup for a second year; 19 year-old singer-songwriter Billie Black, whose soulful R&B has attracted the attention of Gilles Peterson; and Warp Records signing Lonelady.
These acts join a bill that already includes Erol Alkan, Mike Skinner (DJ Set), Surgeon, Roman Flugel, Ghostpoet, Buzzcocks, Sugarhill Gang, Melle Mel & Scorpio, Billy Bragg and dozens more.

Tramlines festival director Sarah Nulty commented:

"We are very excited to add even more fantastic and diverse artists to the bill. We want to ensure that the night at Tramlines is a strong as the daytime. We almost have a continual run of music for 24 hours a day, and with all this in store, we expect people will be getting very little sleep this year!"

Weekend tickets can be purchased from www.tramlines.org.uk for only £30+ BF, which makes Tramlines one of the UK's best value festivals to attend.

For up-to-the-minute information about Tramlines 2015, visit www.tramlines.org.uk or follow Tramlines on Twitter @tramlines

LINEUP

The Charlatans / Basement Jaxx / Wu Tang Clan

Billy Bragg / Buzzcocks / Martha Reeves / Sugarhill Gang

A Guy Called Gerald / Basement Jaxx (DJ Set) / Charlotte OC / Dutch Uncles / Erol Alkan / Evian Christ / Ghostpoet / Gilles Peterson / GoGo Penguin / Honeyblood / James Holden / Jimmy Edgar / Kate Tempest / Marika Hackman / Melle Mel + Scorpio / Mike Skinner (DJ Set) / Rolo Tomassi / Roman Flugel / Romare (DJ) / Surgeon / West Street Mob

And So I Watch You From Afar / Aquilo / Billie Black / Blanck Mass / Blood Sport / Bodyjack / Bruising / Cervo & JVC / Cypria (DJ) / Diagrams / Ekkah / Formation / Gnod / Gulf / Hannah Lou Clark / Henry Wu Duo (live) / Hey Sholay / Hidden Orchestra / Jagaara / Jus Now / Kamera / Knifeworld / Kris Wadsworth / Lone Wolf / Lo Shea / Luca Lozano / The Moon / Nai Harvest / Pev n Kowton / Polo / Portico / Robyn / Serocee / Sherwell / Shopping / Slaves / Sumochief / Tropics / U / Ultimate Painting / Walls