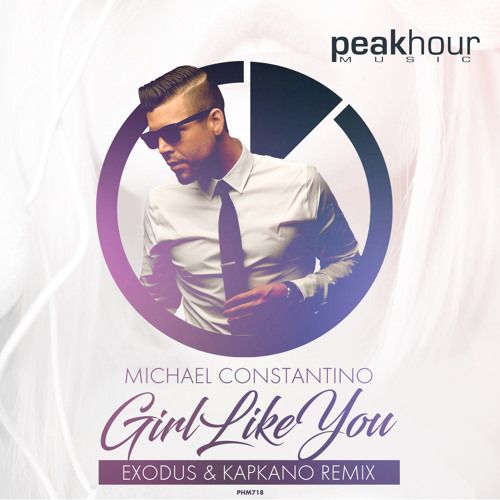 Michael Costantino - Girl Like You (Exodus & Kapkano Remix)
Up next on Peak Hour Music comes Exodus and Kapkano's remix of Michael Constantino's infectious EDM track 'Girl Like You'. The original is a catchy powerful track that will have you singing in no time. The duo have paired up to create a massive high-energy flip of this banger with a charging e-piano, electro synths and warm bassline, that perfectly complements Constantino's massive vocals! A must have for clubs, festivals and radio shows!
Michael Constantino is quickly making a name for himself as an in-demand vocalist and Pop act around the world, with his songs hitting the radio airwaves, and viral videos on YouTube racking up Millions of plays. New York based Exodus kicked off last year with a massive production called 'Perfect Sky', a collaboration with the one and only Chuckie and was placed on official remix duty for Hip-Hop legend Snoop Dogg on his Billboard chart hit 'Let Me Hit It'. Other releases in 2016 have included successful tracks on Vicious Recordings, Peak Hour Music and Black Hole Recordings to name a few. Kyrgyzstan based DJ Kapkano has released his works on such labels as Peak Hour Music, Ensis Records, Royal Ravers (Housepital Records) Digital Empire Records, Zibiria Records, Digital Empire VIP, Crystallized Records and Digital Complex Records. Both have impressive track records and have teamed up for this monster remix, make sure you stay tuned for more from both!
Available Now
Exodus Online
https://www.facebook.com/DJExodusNYC
https://twitter.com/djexodusnyc
https://www.instagram.com/djexodusnyc/
https://www.youtube.com/user/DJExodusTV
Peak Hour Music Online
http://www.peakhourartists.com
https://www.facebook.com/PeakHourMusicOfficial
https://twitter.com/PeakHourArtists
https://soundcloud.com/peak-hour-music-official
https://www.youtube.com/user/PeakHourMusicTV