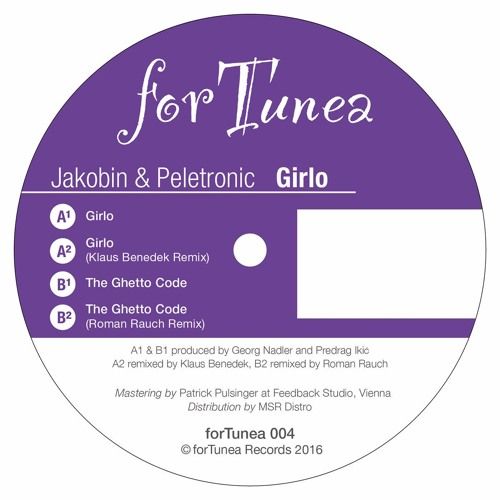 Jakobin & Peletronic - Girlo
Austrian imprint forTunea introduce the latest addition to the roster, Jakobin & Peletronic, with their new EP called Girlo. The title track from this sympathetic Vienna based duo, who recently earned recognition for their "Don't You" EP on Hungarian Hot Wax, is a fluffy laid back tune, that will fit perfectly for any open air season.
Label boss Klaus Benedek is on remix duties, balancing broken beat and deep house tones on his rendition of the title track. The B Side ensues with "The Ghetto Code", focusing on a darker note with its use of minimalistic drum patterns, deep heavyweight synths and a thought-provoking speech.
Last but not least MPC wizard Roman Rauch is back on the label with his take on "The Ghetto Code", a lush yet bouncy outing suitable for any hour of the night. An all around solid package furthers forTunea's rise in the ranks of underground house music. Get on board and enjoy the ride.
Label and Artist Links:
http://fortunea.bandcamp.com
www.facebook.com/jakobinpeletronic