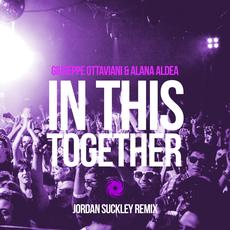 Giuseppe Ottaviani & Alana Aldea – In This Together
Trance has gotten the colour back in its cheeks over the last 12 months and that colour, more often than not, has been Magenta! Giuseppe Ottaviani's 'Magenta' vision has thus far spawned a studio album, a string of live events, a live-in-concert CD and a raft of fan-embraced singles.
Back at the start of 2014, Giuseppe brought the Alana Aldea-sung 'Heal This Empty Heart' into its single spectrum. Now, to artistically loop that particular circuit, and herald the second single from the critically acclaimed 'Magenta Live' album, here's the Parisian vocalist's next contribution to Ottaviani's 'Magenta'-verse'.
First mix to be released is a peak-time master-blaster from Jordan Suckley, and so the doors to the peak-time spins are thrust wide open, as the man of the moment delivers a colossal 'In This Together' revision. With some unchecked LFO and furiously propulsive levels of 303 flowing through the rework's arteries, the sear of Alana's vocal connects it all together. Ensuring maximum elevation at its most crucial moment, Suckley kisses it all off with an anthemic sky-catching synth-surge!