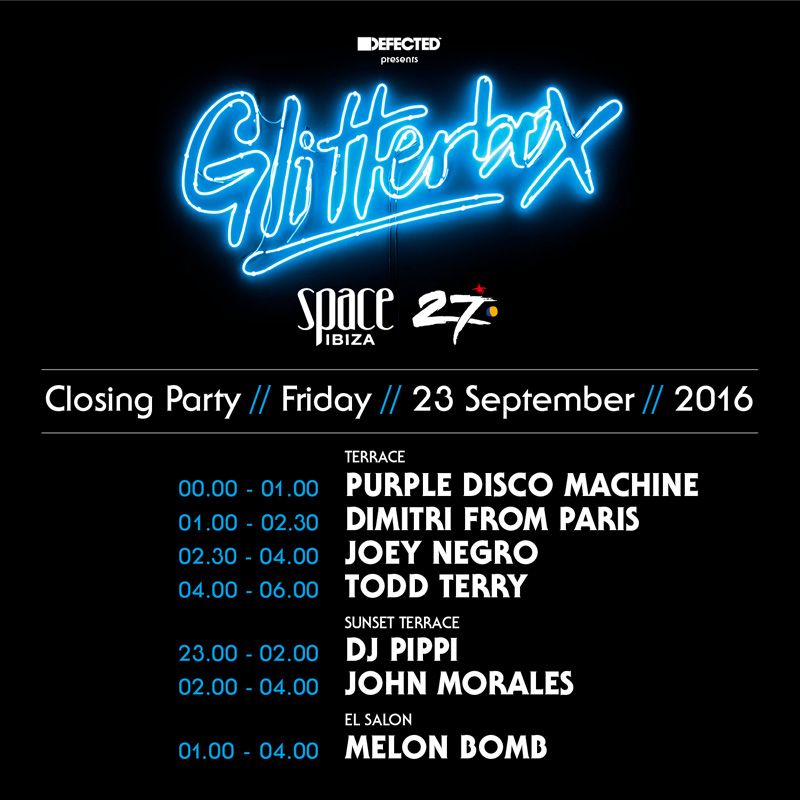 Glitterbox At Space, Ibiza – The Grand Finale
Summer 2016 will be remembered as the season that saw Glitterbox come of age in Ibiza and the UK. This year's parties at Space, Ibiza have drawn tens of thousands of clubbers across 17 weeks, and in addition to Glitterbox's two roadblocked events at Ministry of Sound, Glitterbox has presented stages at We R FSTVL and Defected Croatia.
This Friday's grand finale for Glitterbox at Space, Ibiza is the most eagerly awaited party of the year – and for good reason. Glitterbox embodies the values that are synonymous with Space and its hallowed Terrace – not least the fact that the dancefloor and those who share it should be the focus of a truly transformative night: something of a rarity in the DJ-idolising culture of the modern club. And as an environment to hear the world's greatest DJs – the true masters of their craft – it's up there with the very best. Fittingly, this year's Closing Party presents an impeccable line-up, the Terrace plays host to Todd Terry, Dimitri From Paris, Joey Negro, and Purple Disco Machine, while John Morales and DJ Pippi take the Sunset Terrace, and El Salon is helmed by Melon Bomb.
Proof that Glitterbox is becoming an unstoppable force off the island could be seen via the queues for the August Bank Holiday day and night party at Ministry of Sound – the biggest – and longest – London event to date. It opened at 4pm outside in the Courtyard, featured an evening roller disco in the Box, and later a packed dancefloor partied until dawn thanks to a line-up of Dimitri From Paris, Joey Negro, Simon Dunmore, Severino, Purple Disco Machine, Eli Escobar, Dr Packer, Get Down Edits, and For The Love Of House, plus performances from dance crew, Hot Heels.
Glitterbox's previous London event at Ministry of Sound in May, where Basement Jaxx and The Shapeshifters capped an incredibly memorable night in the legendary Box, was a defining moment in the party's history and the perfect start to what's been an incredible summer. For images see: http://defected.com/gallery/07.05.16/glitterbox-ministry-sound/. Later that month, Glitterbox then made its festival debut via a May Bank Holiday VIP arena at We Are FSTVL. In August, Glitterbox made its first Croatian appearance at the inaugural, 5 day long Defected Croatia Festival in Tisno, Dalmatia.
For a recap of Glitterbox's standout moments of 2016 please see: http://glitterboxibiza.com/news/glitterbox-class-of-2016