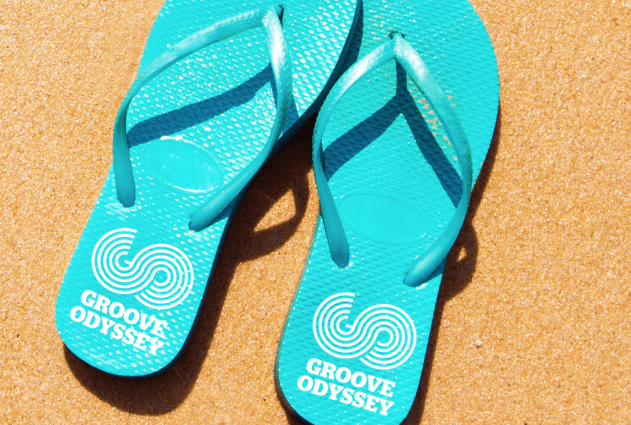 Groove Odyssey heads to Ibiza in 2017!
This 4 day long weekender will be taking place at The Beach Star Studio and Apartments located in San Antonio Bay next to Punta Xinxo beach, where you will be able to see the world famous Ibizan sunsets. The hotel has recently been refurbished with a contemporary feel so you can get your groove on during the day in lovely surroundings, whilst enjoying a remarkable line-up of DJs spinning the high standard of quality music our followers have become accustomed to.
The weekender will include day time pool and boat parties, a sunset event and club nights. Entry to the pool parties and club nights are free, boat parties are chargeable.
To make sure you enjoy the sophisticated sounds around the pool every day, we have teamed up with Void Acoustics one of the best in achieving a true blend of sonic excellence to guarantee the very best in sound around the spacious pool area and beyond. We have also made it easier for you to enjoy your long weekend by adding the luxury of an all-inclusive deal which will include breakfast, lunch and dinner together with alcohol and soft drinks.
The day time pool parties will be a brand new outdoor clubbing experience for some, so to make it even more memorable, we have invited special guests alongside some of our regular favourite DJs at Groove Odyssey to provide the right musical backdrop for the 4 days by the pool, boat and club nights. See Line up for more.
There will be two day time boat parties on Saturday and Sunday, which will leave from San Antonio Port. We have teamed up with the Ibiza Boat Party Company who run the highest quality boats from San Antonio. These are all fully equipped with a Funktion One Sound System. Watch out for the ticket launch, it's gonna be a Disco affair on one hand and straight up Classic House on the other!
As we continue the party into the night, we will be producing 3 club nights starting from midnight until 6am and we have some great guests lined up for your musical dose of Soulful, Deep, Uplifting House Music Fused With Disco Classics, Soul, Rare Groove, Funk & Boogie!
• 5 REASONS WHY YOU SHOULD – GO IBIZA 2017
ALL INCLUSIVE – All-inclusive drinks and food plus free
Admission and coach transfers to club nights
ARTISTS – We have booked a line-up of over 40 artists to keep you grooving all-day & night
PARTY EXPERIENCE – Party on this paradise island and feel the magic amongst like-minded people
IN THE DIARY – Ibiza is one of the world's biggest Summer dance music hot spots and Groove Odyssey are now part of the Ibiza 2017 club calendar
GREAT OFFER – We have made it affordable for you to be a part of this fabulous weekender and enjoy the spirit of this beautiful island capturing the full Ibizan experience with Groove Odyssey family – 😉
• GO IBIZA 19TH – 22ND MAY 2017 @ Beach Star hotel San Antonio Bay.
• 4 DAYS ALL INCLUSIVE ACCOMMODATION / OVER 40 ARTIST / POOL, CLUB & BOAT PARTIES!
• PACKAGES START FROM £400 – £475 (INC FOOD / DRINKS & ALCOHOL)
• FLIGHTS NOT INCLUDED!
Date: 19TH – 22ND MAY
Time: 12:00 – 05:00
Venue:
Beach Star Hotel San Antonio Bay.
Event / FACEBOOK Link: View More Event Detail >
Cost: £400 – £475
Ticket Link: Ticket Info >
GO IBIZA 2017 – 4 DAYS OF QUALITY SOULFUL, DEEP, UPLIFTING HOUSE MUSIC FUSED WITH DISCO CLASSICS, SOUL, RARE GROOVE, FUNK & BOOGIE!
• 1ST RELEASE ARTIST LINE UP IN ALPHABETICAL ORDER:
ANANE VEGA
DJ BIGGER
BOBBY & STEVE
COLIN WILLIAMS
DAVID FIORESE
FUNKIE P
GROOVE ASSASIN
HANLEI
IAN FRIDAY
JOEY NEGRO
MARK STONE
MARTING LODGE
MIKE DUNN
MIKE RISK
NEIL PIERCE
OPOLOPO
PAUL TROUBLE ANDERSON
PHIL ASHER
SEAN McCABE
DJ SPEN
TERRY HUNTER
TONY MOMRELLE
• 2ND RELEAE ARTIST LINUP COMING SOON!
• FULL INFO AND TERMS AND CONDITIONS: www.grooveodyssey.com