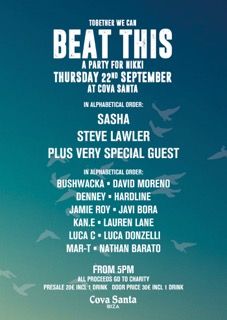 Steve Lawler hosts Ibiza Charity Event
Steve Lawler has just announced a special one-off event in Ibiza to raise money for a local in ibiza with breast cancer.
Nikki Miller McCall has been living in Ibiza for almost 10 years. Having been diagnosed with stage 3/4 breast cancer, she has been through a traumatic series of chemo and radiotherapy. The issue is a personal one for Steve, whose mother was diagnosed with stage 4 lung cancer. Fortunately, she is now cured after extensive natural therapy – Steve now hopes the same treatment could help Nikki, whose chemo and radiotherapy has had some success but the battle is far from over.
Steve has decided to get involved to help her and raise the funds by hosting a big party in Ibiza. With the venue, staff and a huge lineup secured, all of the proceeds from the event will go towards Nikki's treatment and create a charity for others in need.
Steve Lawler is well known for curating one of the island's best-loved parties, Warriors on Sundays. Many of the regular Warriors artists will be in attendance, whilst dance music legend Sasha is also confirmed to head up the event. There is also another secret huge name due to headline the party, which will be announced on Thursday. The party takes place in the beautiful outdoor setting of Cova Santa. 'Together We Can Beat This: A Party for Nikki' looks set to be one of the season's best impromptu parties, and it will all go towards a good cause.
Steve Lawler presents Together We Can Beat This A Party for Nikki
Thursday 22nd September
Cova Santa
5pm – late
For more information on Steve Lawler, please visit
https://www.facebook.com/DJSteveLawlerOfficial/
https://twitter.com/DJSteveLawler
https://soundcloud.com/steve-lawler