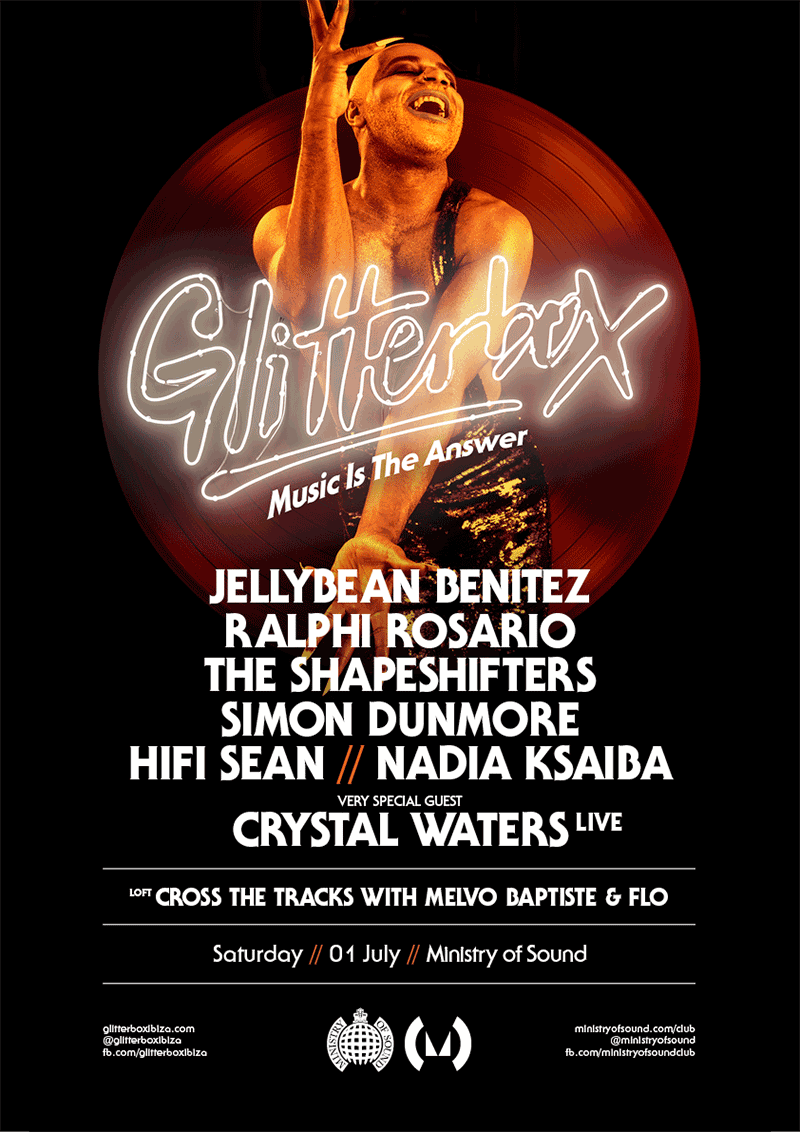 Glitterbox: Music Is The Answer
Glitterbox has revealed the unprecedented line-up for their next event in London. Alongside Glitterbox mastermind and resident Simon Dunmore and hitmakers, The Shapeshifters will be dance music royalty Jellybean Benitez and Ralphi Rosario headlining, plus Hifi Sean, Nadia Kasia and a very special live PA from the one and only Crystal Waters.
Jellybean Benitez is a world-class musician who has made a lifelong contribution to creating music, producing and remixing the biggest superstars of his day such as Madonna, Whitney Houston, Michael Jackson and Jocelyn Brown. As a DJ his credentials are matchless, drawing on decades of soul, disco and houseand epitomising Glitterbox's ethos.
Ralphi Rosario is a pioneer of house music, kicking off an influential DJ career in Chicago when he was still in high school. The remixes and productions that followed have garnered him #1 Billboard Dance Chart hits as well as more than 20 well-respected years spinning records. His Chicago house anthem 'You Used To Hold Me' from 1987 remains a staple for discerning DJs looking for a floor-filler and a record that is sure to create unforgettable moments on the Glitterboxdancefloor this July.
While their timeless classic 'Lola's Theme' gets a new lease of life with new mixes out very soon, Glitterbox favourites The Shapeshifters are gracing Ministry Of Sound once again, bringing their joyful mix of house and disco. Vocal house diva Crystal Waters will sing her familiar house belters live and direct, also accompanying London's Savage resident Hifi Sean to perform their incredible gospel-inspired record 'Testify'.
The well-loved stars of the show, the Glitterbox dancers, will be performing and joining the crowd to dance throughout the party, while Simon Dunmore and new-school addition Nadia Kasia heat things up in Ministry's 103 bar. Meanwhile, rare grooves, soul funk and disco will be playing all night in the Loft courtesy of Melvo Baptiste and Flo.