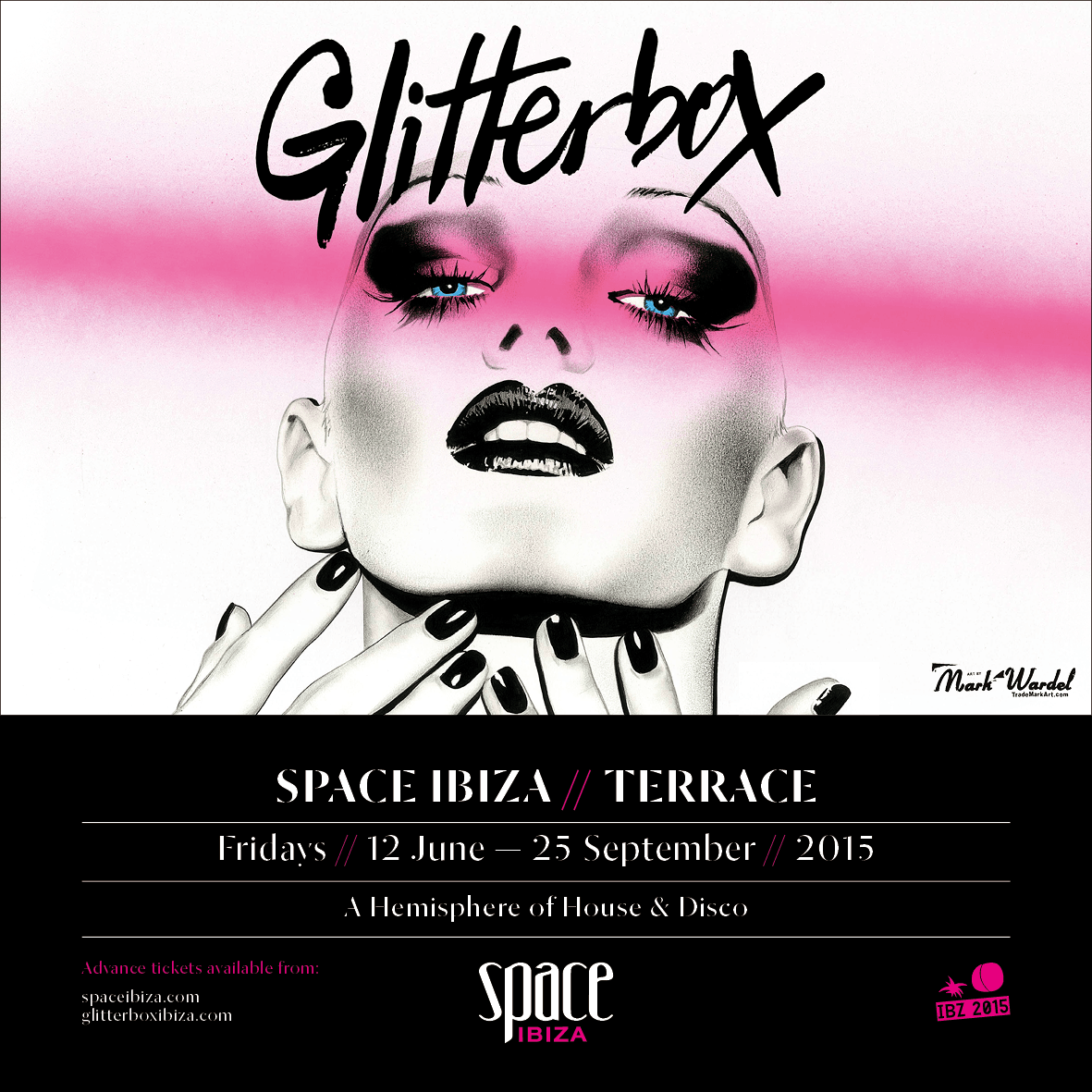 Glitterbox reveals weekly Ibiza line ups
True to form, Glitterbox at Space Ibiza is already one of the most talked about events of the forthcoming Ibiza season. The weekly Friday party opens its doors on 12th June, running for 16 weeks until the closing party on 25th September. Full weekly line-ups for Glitterbox can now be revealed (page 3), featuring some of the world's finest DJs and live acts.
The international hit list of DJs and performers, playing the most beautiful and best-loved sounds across the full hemisphere of house and disco, include Hercules & Love Affair, Todd Terje, Julio Bashmore and Fatboy Slim who'll appear together with a host of Glitterbox residents Joey Negro, Dimitri From Paris, Horse Meat Disco and Simon Dunmore. An extended cast that includes Louie Vega,Tensnake, Breakbot, Roger Sanchez, Todd Terry, Aeroplane, Juan MacLean, The Revenge, David Morales, Kings Of Tomorrow, Claudio Coccoluto, Norman Jay, John Morales, FCL, Tim Deluxe, Lovebirds, DJ Pippi, Smokin' Jo, Heller & Farley, Mousse T, The Shapeshifters, Luke Solomon, Purple Disco Machine, Copyright, DJ Antz, Mr Doris and Mo' Funk, will all make guest appearances over the season.
As shown by the partnership with Space Ibiza (the island's most iconic club with an unparalleled musical history), creative collaboration – and fun – is at Glitterbox's heart. Overseen by Glitterbox Creative Director, Mark Herman, this year brings new creative elements to the event including the artist, TradeMark, who designed the season's artwork, whilst masterminding the performance side, club collective "Savage" will consist of three different dance crews (Sink The Pink, Hot Heels & Nutbags) who will all bring their own unique energy to the night.
TradeMark, aka UK artist, Mark Wardel, is the renowned painter whose figurative work explores the interface between art, commerce, and desire. After finishing art school, he became known as the "court painter" of the Blitz and other London café society hang outs, producing portraits of Boy George, Steve Strange, and Japan's David Sylvian. Wardel's artworks are in the collections of Kanye West and Naomi Campbell, and his work has been featured in GQ Style, Dazed and Confused, iD, and beyond. In 2013, he produced a sell-out edition of 300 Bowie-silver Duke life mask sculptures for the V&A museum, as part of the David Bowie Is exhibition, of which Bowie himself purchased two.
"Savage" is produced by East Creative Agency, the team behind some of London's most outrageous club nights and events – including Sink The Pink and XOYO's Gloria's. They'll be bringing their East London performers, choreographers, and costume designers to Glitterbox, bringing the finest dancers, drag queens and club kids together to celebrate fashion, decadence, self-expression and hedonism – all to the best soundtrack on the island. Jono Kitchens of Hot Heels will choreograph performances, with costumes designed by Jay Barry Matthews.
Glitterbox's opening party takes place on Friday 12 June, featuring Todd Terry, Joey Negro, Horse Meat Disco, The Revenge and Simon Dunmore, joined by unique performers from dance crews hosted by "Savage". Further details will be announced soon.
ABOUT GLITTERBOX
In 2014, Glitterbox arrived amid a sense of excitement sparked by on-island word of mouth and an understanding that Defected were setting out to create a different kind of party; one that combined a 'music first' policy with a sense of glamour – eschewing the flashy gimmicks and the homogenous thud that had become ubiquitous elsewhere.
Glitterbox's weekly soundtrack of expertly curated DJ sets of classic and contemporary house, disco and electronic music, drew a loyal following of locals, industry, club freaks, workers and fashion folk. As the buzz reached far beyond the Balearics, visiting international clubbers came in droves. By August, and then throughout September, Glitterbox was selling out on a weekly basis, culminating in a typically hedonistic, riotous closing party that brought back the original spirit of Ibiza.
Staying true to its intentions, Glitterbox's musical highlights were many. Hercules & Love Affair played two incredible live shows, India's PA was mesmerising, while DJ sets from Kenny Dope, Horse Meat Disco, Todd Terry, Dimitri From Paris and Joey Negro all added to the Glitterbox Ibiza legend.
Released on 31 May, Defected presents Glitterbox Ibiza 2015 is a new mix album that represents the nights musical spirit. Compiled and mixed by Defected's founder Simon Dunmore, the 3 mix set features some the biggest names in disco and house music including Chaka Khan, Ten City, Salsoul Orchestra, Rare Pleasure and Lana Del Rey.
Advance tickets for Glitterbox at Space Ibiza are available now from: http://bit.ly/glitterbox
glitterboxibiza.com
@glitterboxibiza
facebook.com/glitterboxibiza
instagram.com/glitterboxibiza
spaceibiza.com
@spaceibiza
facebook.com/spaceibiza
Friday 12th June
Opening Party – Space Ibiza Terrace
Todd Terry
Joey Negro
Horse Meat Disco
The Revenge
Simon Dunmore
DJ Pippi
Friday 19th June
Space Ibiza Terrace
Kings Of Tomorrow
Aeroplane
FCL & Lady Lynn (Live PA)
Lovebirds
DJ Pippi
Andy Baxter
Friday 26th June
Space Ibiza Terrace
Todd Terry
Breakbot
Smokin Jo
Ron Basejam
DJ Pippi
Mr Doris
Friday 3rd July
Space Ibiza Terrace
Hercules and Love Affair (Live)
Aeroplane
Horse Meat Disco
Simon Dunmore
Luke Solomon
DJ Ants
Friday 10th July
Space Ibiza Terrace
The Magician
Joey Negro
Juan MacLean
Purple Disco Machine
Mo' Funk
Friday 17TH July
Space Ibiza Terrace
Roger Sanchez
Norman Jay MBE
Horse Meat Disco
Boris Dlugosh
Purple Disco Machine
DJ Pippi
Friday 24th July
Space Ibiza Terrace
Julio Bashmore
DJ Spen
The Revenge
Simon Dunmore
Mr Doris
Friday 31st July
Space Ibiza Terrace
Louie Vega
Breakbot
Mousse T.
John Morales
Barbara Tucker (Live PA)
Mo' Funk
Friday 7th August
Space Ibiza Terrace
David Morales
Claudio Coccolutto
Joey Negro
Heller & Farley
Ultra Nate (Live PA)
DJ Pippi
Friday 14th August
Space Ibiza Terrace
Fatboy Slim
Tensnake
The Shapeshifters
John Morales
Mambo Brothers
Friday 21st August
Space Ibiza Terrace
Basement Jaxx
The Magician
Joey Negro
Late Nite Tuff Guy
Mr Doris
Friday 28th August
Space Ibiza Terrace
Hercules & Love Affair (Live)
Dimitri From Paris
Tensnake // Todd Terry
Purple Disco Machine
Mo Funk
Andy Bailey
Friday 4th September
Space Ibiza Terrace
Kings Of Tomorrow
Aeroplane
Smokin Jo
John Morales
DJ Pippi
Friday 11th September
Space Ibiza Terrace
Todd Terje (Live)
The 2 Bears
Lovebirds
Opolopo
Andy Baxter
Friday 18th September
Space Ibiza Terrace
Soul Clap
Breakbot
Joey Negro
Juan MacLean
DJ Ants
Friday 25th September
Space Ibiza Terrace
Dimitri From Paris
Todd Terry
Breakbot
Greg Wilson
Horse Meat Disco
DJ Pippi
Copyright