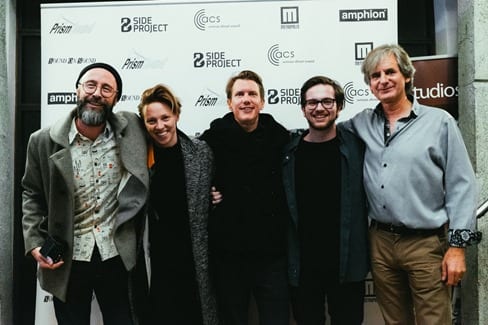 Global Remix Contest B-Side Project 2017 Opens Registration For Producers
The respected competition returns for its seventh year adding new judges to its heavyweight industry panel including, Clean Bandit, Alan Braxe, 8Stem, Minirig and Doctor Mix.
The much loved B-Side Project, sponsored by Prism Sound and other leading studio brands, has officially opened registration for producers to take part in its global remix competition. Back bigger and better than ever, the 2017 B-Side Project sees it broaden its judging panel of industry experts to include revered live performers Clean Bandit, the internationally acclaimed French producer, Alan Braxe, Bruce Pavitt (owner of the influential Subpop Records) & Adam Farish from 8Stem, world-class Bluetooth speaker brand, Minirig, and Doctor Mix founder, Claudio Passavanti. This annual competition offers a great way for producers of all genres to showcase their remix skills on original pieces of work, supplied by musicians, bands and composers, exclusively for the project. With £15,000 worth of studio gear, publishing contracts and more up for grabs, the B-Side Project is a career-changing competition. Producers wanting to get involved should register at www.b-sideproject.org from now until 31st August.
Launched in 2009, the B-Side Project is well renowned for connecting musicians and producers and industry figures across a wide range of genres. It finds original artists and pairs them with electronic music producers from around the world, who then aim to remix their tracks before the deadline. B-Side Project provides real opportunities to release music on established platforms and helps raise artists' profiles and careers to the next level.
Artists who make the winning tracks can watch their remix being mastered at Metropolis Studios in London, where artists such as The Rolling Stones, Paul McCartney and Amy Winehouse have all recorded. Each of the remix tracks in the top 10 will be mastered at Metropolis and featured on an album to be digitally released on B-Side Recordings. To prove how career-changing winning the competition can be, 2014 winner Hugh Hardie went on to sign to Hospital Records and continues to enjoy success as an artist, as well as a spot on the B-Side Project judging panel.
As well as all that, the producer who creates the Overall Best Remix wins a Lyra pro audio interface worth £1,500 as part of their extensive studio prize package that also includes a pair of SRH940 production headphones. The 'Best Remix' winner will also earn an entirely new studio with acoustic panels from GIK Acoustics, microphone and headphones from Audio Technica and Seaboard Rise from Roli, worth more than £15,000 in all. Individual prizes are also awarded, including custom ear protection from ACS Custom and the chance to gain a publishing contract and track releases, benefiting both the original artists and the remix producers alike.
The high profile judging panel comes with even more respected figures in 2017. New judges include chart topping dance stars and respected live act Clean Bandit; Music Sounds Better With You producer, Alan Braxe; and 8Stem, consisting of Bruce Pavitt (owner of the legendary Subpop Records) & Adam Farish. Further additions include the world-class team of engineers at Minirig from Bristol UK, who've set new standards in innovation and sound quality with their Bluetooth speaker technology, and, finally, Claudio Passavanti founder of Sunlightsquare Records and online mastering platform, Doctor Mix. These join returning heavyweight artists such as Roni Size, Utah Saints and Le Roux, plus Estelle Rubio, former winner Hugh Hardie, Chris Read from Who Sampled Who, Hospital Recordsartist Nu:Tone, drum & bass innovator, Talvin Singh and mastering engineer Scott Banks from Studio DMI.
The B-Side Project is backed by a number of well-respected organisations, including Prism Sound as the headline sponsor since 2015. Brand new sponsors for 2017 include the high-end monitor provider, Genelec, and essential audio brand, Shure. These join in support with other industry leading names such as Metropolis Studios, ACS Custom, ROLI and many more pro-audio brands, plus Sound On Sound as the project's official media partner.
In 2016, 400 people took part from over 40 countries around the world. Winners were revealed at a special awards held at Metropolis Studios and streamed online to offer greater exposure. The awards ceremony for 2017 will be held in December at a location in London, yet to be announced.
Submissions of work from original artists have now closed, but for producers wanting to take part in the B-Side Project 2017, they can register now at http://b-sideproject.org/enter until 31st August.
www.b-sideproject.org
www.facebook.com/bsideprojectHQ
www.twitter.com/bsideproject