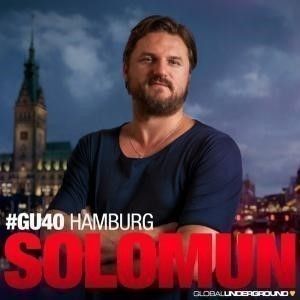 Global Underground Solomun – #GU40 Hamburg
Global Underground proudly present their celebratory eighteenth year and landmark #GU40 City Series release with none other than Solomun at the helm devoting the episode to his hometown, Hamburg.
Crowned 'DJ of the Year' by Mixmag, and 'Best Producer' at the DJ Awards Ibiza in 2012, responsible for not one, but two of the largest events during the Ibiza summer season of recent years and running the seminal DIYnamic record label imprint, Solomun has become one of the most infamous DJs in the world of late.
Solomun's GU mix is very much a game of two halves. The two disc compendium features the likes of the soulful new glitch-house burner from Christian Loffler, through to cuts from Oliver Huntemann, Karl Friedrich, Fango, Alter Ego, a timeless classic from Ada, Boris Werner, Audiojack, Broken Bells, Sevensol & Bender, Avatism, Mooryc, and The Rice Twins. CD1 is a mix that takes its cues from the epic electronic output of forward-facing labels like Kompakt and Krakatau while CD 2 takes things towards a more peak-time vibe but crucially, the emotional resonance remains.
The album launch party coincided with the closing of Solomun's infamous club in Hamburg, Ego, so the mix also closed a chapter of his life. Like fellow Hamburg house hero Tensnake, Mladen has been very loyal to the German city where the Beatles cut their live chops and where clubs like Front gave the city its beating house music heart in the early 1990s.
"I grew up in Hamburg and until recently, lived there all my life. There are 2 million people in the city but where I lived it was like a village, you know where to hang out and where to grab a coffee. My sister and my mother and my best friends all live there… Hamburg will be always home." Solomun
BACKGROUND
A native to Hamburg, Solomun has had a stratospheric rise in popularity, which kicked off in 2012after a legendary first season in Ibiza with his own label-inspired Diynamic Neon Nights at Sankeys. He returned the following summer with his hugely successful weekly party at Pacha – Solomun+1. Born in Bosnia-, Herzegovina and raised in Hamburg, before his huge rise to fame, Solomun ran the hugely successful club 'Ego' in Hamburg for over 7 years and continues to front the acclaimed DIYnamic label and its offshoots.
Since it's launch in 1996 with 'Tony De Vit – Tel Aviv', Global Underground's City series has been the benchmark to which other DJ compilations were measured. Over the past 18 years there have been a plethora of seminal albums from the likes of Sasha, Deep Dish, Paul Oakenfold, Danny Tenaglia, Dave Seaman, Nick Warren, James Lavelle, John Digweed to name just a few. Global Underground main man Andy Horsfield says, "Solomun is a magician – it's as simple as that. The way he weaves his music together is simply magical. He can convert the magic he creates in a club to the album format, not all great club DJs can do this and in itself this is a true skill and means that when you buy one of his rare album mixes, you get the true sound of him."
"This CD was six months of my life. My concept was to have a melodic, romantic smooth mix on the first side and the second mix more dance-floor, but it was not so easy to find the right tracks. I included some old tracks I love;I wanted to make a journey and I hope people understand that journey." Solomun