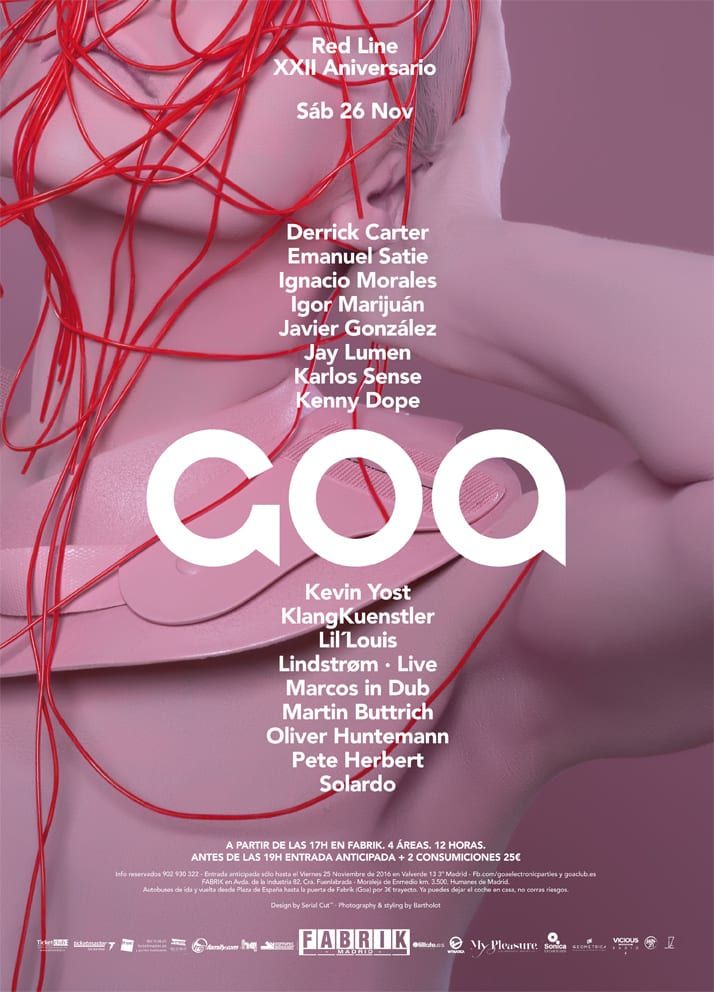 Goa Celebrates 22 Years of History
The popular brand of musical events, a reference in the national scene, will be celebrating its 22nd anniversary at the club where it has enjoyed its most fruitful chapter: FABRIK.
Under the "Red Line" concept, GOA marks a turning point in its history, a concept where its past and present meet and give way to a new cycle of their future existence. Amongst the new features that can already be seen, GOA has unveiled its new brand image.
For this important event, the promoter Trip Family presents an extensive selection of international artists that perfectly represent both GOA's history and future proposal: Derrick Carter, Kenny Dope Gonzalez, Kevin Yost, Lil 'Louis, Martin Buttrich, Oliver Huntemann, Pete Herbert and Lindstrøm live are some of the most prominent names on the line up.
—
22 years ago a small electronic music club opened its doors for the first time in Mesoneros Romanos street in Madrid. Under the premise of creating a space where music that fascinated them could be enjoyed, and with excitement and simplicity, GOA was born. Nobody could of ever imagined during those first steps how far the brand would grow, and that it is now part of history. Its creators, the Trip Family promoter, used the mornings as the best time for dancing, a trademark that then turned against them when the laws on local closing times changed. Due to these changes, the club in Mesoneros closed down, however, this would be only the beginning of its extraordinary growth. Soon after came Universal Island and its multitudinous Sunday events, GOA "The Rave", which years later would multiply even more when arriving to FABRIK. With a revolutionary concept in Spain, where the small details really mattered, GOA reached levels that had never been reached in the area. Its proposal grew and grew, but its dedication always maintained the essence of the club. Its global shows were drilled deep into the audience. Themed parties where music was only a part of the event, surrounded by a solid and elaborate scene: video art, performances fantasy, ambient lighting, created atmospheres… The fame of GOA spread to every corner of the country, even holding their events at Space Ibiza and at other important clubs in Spain.
After several years of thrilling success at FABRIK, the brand took an almost two year break, a time that represents a turning point of the brand. Coinciding with its 22nd anniversary, Trip Family decides to return to the room on Humanes to start a new phase in its history. "RED LINE" is the theme chosen to mark this change of cycle, a perfect time to review the past, enjoy the present and give way to the future. The line up of artists that have been invited is a perfect sample of these stages. Great classics from the scene such as Derrick Carter, Kenny Dope Gonzalez, Kevin Yost, Pete Herbert, Lil 'Louis and the desired Kevin Yost, who visited GOA on the first edition at Fabrik, mixed with names that are huge today such as Martin Buttrich, Oliver Huntemann and Lindstrøm live, who give way to new talents such as Emanuel Satie, Jay Lumen, Solardo, Klangkuenstler and national artists Ignacio Morales, Igor Marijuán, Javier Gonzalez, Karlos Sense and resident DJ Marcos in Dub. Always looking for something new, GOA will also present a conceptual show that represents the crossing of the red line.
GOA has always been known for defending freedom, harmony and respect amongst the public, which they will again take to FABRIK for this important celebration that will begin at 5pm and end at 6am. More than 12 hours of partying, which you can buy advanced tickets for at the price of 25 euros with two drinks through Entradas a tu Alcance, Ticketmaster and TicketClub.
Happy bithday!!

FULL LINE UP
DERRICK CARTER + EMANUEL SATIE + IGNACIO MORALES + IGOR MARIJUÁN + JAVIER GONZÁLEZ + JAY LUMEN + KARLOS SENSE + KENNY DOPE GONZÁLEZ + KEVIN YOST + KLANGKUENSTLER + LIL' LOUIS + LINDSTRØM (LIVE) + MARCOS IN DUB + MARTIN BUTTRICH + OLIVER HUNTEMANN + PETE HERBERT + SOLARDO