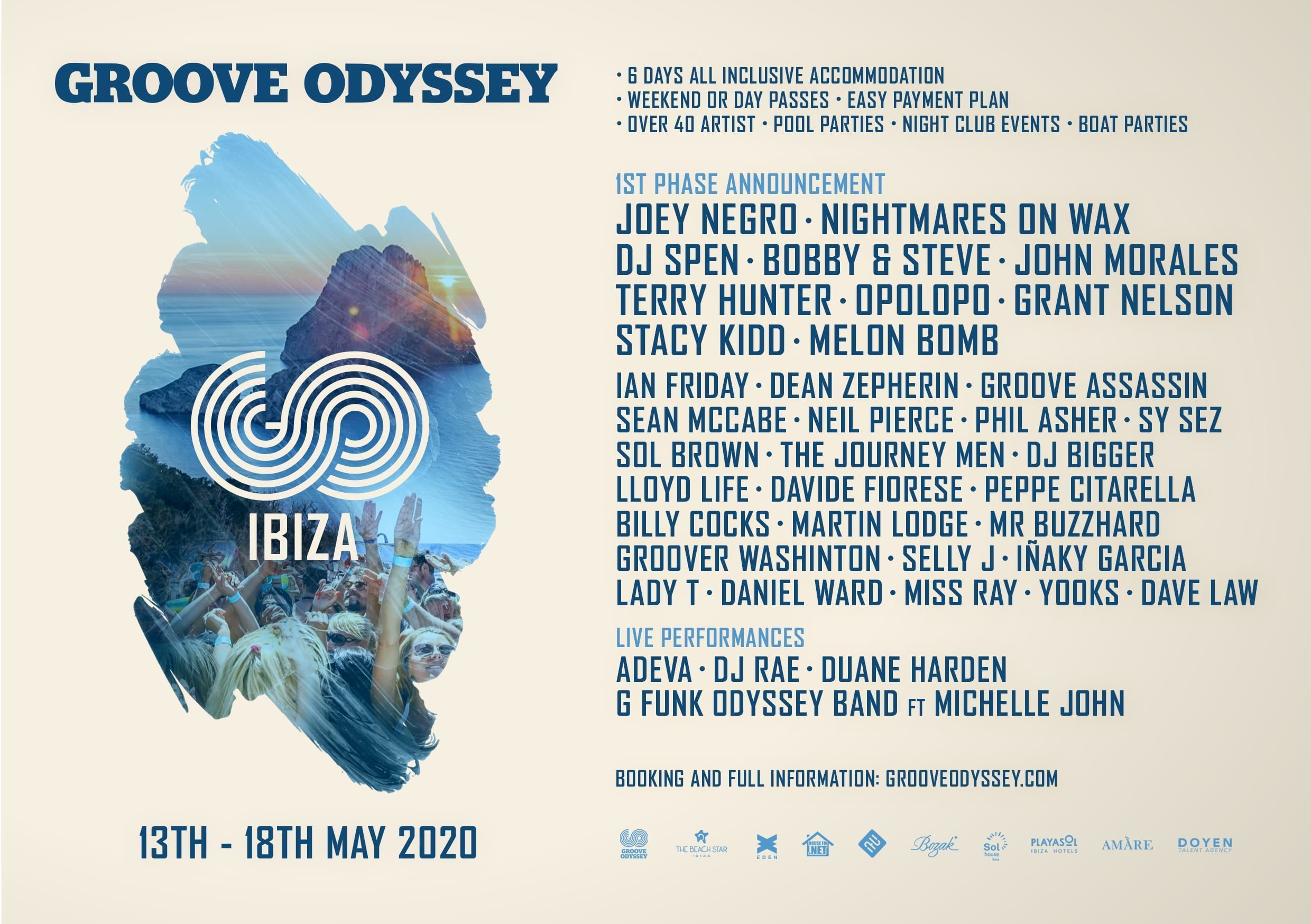 Book your place today for GO Ibiza 2020!
We are excited to announce our 4th edition of GO IBIZA! Taking place at the "Beach Star" hotel resort, San Antonio Bay from Wednesday 13th May – Monday 18th of May 2020 (check out Tuesday 19th).
We've added an extra day kicking off on Wednesday where you'll be able to unwind and get ready for the days ahead with a relaxing massage, water Aerobics, yoga class or you could chill with a cocktail whiles listening to the smooth selection from one your favourite Dj's.
Event information:
• Over 30 artist
• Pool parties
• Nightclub events
• Boat parties
• Optional 2 or 6 day all-inclusive accommodation available
• Day passes
• Accommodation Includes food/soft drinks & alcohol
• Single, double or triple occupancy available
• Easy payment plan available
Music policy Soulful, Deep, Uplifting House music fused with Disco Classics, Soul, Rare Groove, Funk & Boogie!
1st phase lineup announcement ❤️💯✈️🛫🛩🌞
JOEY NEGRO
DJ SPEN
NIGHTMARES ON WAX
BOBBY & STEVE
JOHN MORALES
TERRY HUNTER
GRANT NELSON
OPOLOPO
STACY KIDD
MELON BOMB
IAN FRIDAY
DEAN ZEPHERIN
GROOVE ASSASSIN
SEAN MCCABE
NEIL PIERCE
PHIL ASHER
SY SEZ
SOL BROWN
THE JOURNEY MEN
BILLY COCKS
DJ BIGGER
LLOYD LIFE
DAVIDE FIORESE
PEPPE CITARELLA
MARTIN LODGE
MR BUZZHARD
GROOVER WASHINGTON
SELLY J
IÑAKY GARCIA
LADY T
DANIEL WARD
MISS RAY
YOOKS
DAVE LAW
LIVE PERFORMANCES BY:
– ADEVA
– DJ RAE
– DUANE HARDEN
– G FUNK ODYSSEY BAND FT MICHELLE JOHN
More information & bookings : bit.ly/GOIBIZA202
Event information:
• Event 9th – 10th – 11 October 2020
• Check-in Fri 9th Oct – Check-out Monday 12th Oct 2020
• 3 days All-inclusive packages include:
– Entry to daily pool parties
– Entry to Night club events
– Breakfast, launch, dinner soft drinks & Alcohol (between 8 am 10 pm)
• Optional weekend or all-inclusive day passes available
• Single, double or triple occupancy available
• Book and reserve accommodation at one of our 4 hotels:
– Beach Star (main event hotel)
– Amàre
– Sol House
– San Remo
Event info:
• Over 30 artist
• Pool parties
• Nightclub events
• Boat parties
Music policy:
– House & Garage
– Jungle, RnB, Funky Hse, Afro Beats & Bashment
(past to present)
Payment plans available:
• Full payment
• 4 part payment
Facebook event: http://bit.ly/BtoIbiza2020
Full Info & bookings: backto95.com/blogs/ibiza