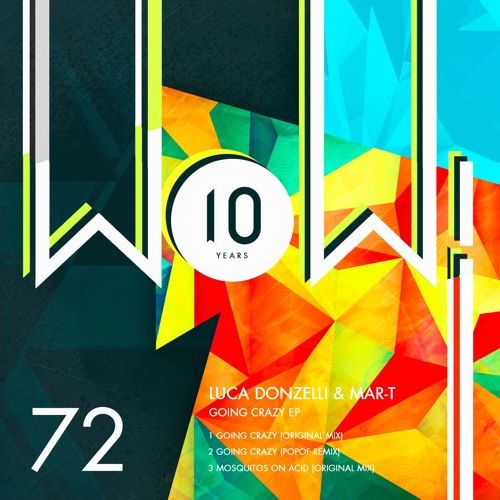 Luca Donzelli & Mar-T - Going Crazy EP (Inc. Popof Remix)
2016 sees Wow! Recordings' head honcho Mar-T team up with esteemed Italian DJ/producer Luca Donzelli to release their brand new EP entitled 'Going Crazy', distributed via Mar-T's aforementioned imprint.
This impressive EP sees the dynamic duo join forces once again following their previous endeavours together on labels such as Sanity Music, This and That and​​ Hot Creations amongst others.
The EP's title track, ​​ 'Going Crazy', is the duo's follow-up/sequel to their highly successful remix of Popof & Animal & Me's 'Going Back' on ​ ​​ ​​ Hot Creations ​ ​ and kicks proceedings off by delivering a tight groove-driven Tech House framework with a playful male vocal and an intriguing vintage sounding synth riff.
Next up,​​ the revered French DJ/producer and Form Music main man Popof steps up for remix duty on 'Going Crazy', adding his trademark driving Tech-House rhythm to crank things up a notch.
'Mosquitos On Acid' concludes the release and provides a heady, fast-paced groove full of off-kilter effects, intriguing synth melodies and psychedelic vocals designed to mess with your mind.
'Going Crazy' EP is available exclusively via Beatport on May 16th and everywhere else two weeks later.
FIND WOW! RECORDINGS ONLINE:
pro.beatport.com/label/wow!-recordings/2163
soundcloud.com/wow-recordings
www.facebook.com/WowRecordingsOFFICIAL
FIND MAR-T ONLINE:
soundcloud.com/mar-t
www.facebook.com/artist.mar.t
twitter.com/djmar_t
FIND LUCA DONZELLI ONLINE:
soundcloud.com/luca-donzelli
www.facebook.com/lucadonzelliartistpage
twitter.com/lucadonzelli
TRACKLIST
01. Luca Donzelli & Mar-T –Going Crazy (Original Mix)
02. Luca Donzelli & Mar-T – Going Crazy (Popof Remix)
03. Luca Donzelli & Mar-T – Mosquitos On Acid (Original Mix)