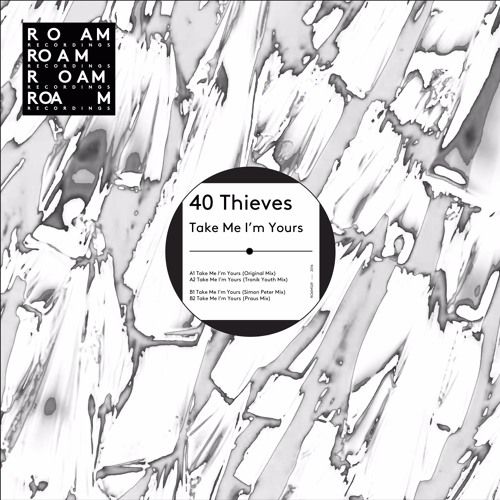 40 Thieves - Take Me I'm Yours (feat. Nina Lares)
Roam Recordings' latest installment features long time label friends 40 Thieves – known for previous releases on the likes of Permanent Vacation, Leng, and Rong Records – and their excellent redux of Squeeze's 1978 classic "Take Me I'm Yours". The combo's take on this proto-new wave gem renders the tune as spacier and yet more dance floor focused, with the sultry voice of Nina Lares supplying the captivating hook. The result is as slinky as can be, with a hypnotic four-on-the-floor providing the anchor for layers of lush pads and keys as Nina sings the spine-shivering melody. There's also an instrumental included in the digital package for those wishing to dig deep into 40 Thieves' arrangement.
The first remix is a hearty chugger from Tronik Youth (Nein Records). The drums are given a bit more bite, riding a pulsing synth line while the vocals are eerily dubbed in and out. Next up Simon Peter (Claremont 56, Silhouette Music) shows his mastery of the live bass guitar which is front and center of his smoothed out balearic take on the tune. Bright chords and hand percussion make this one special for hazed-out moments. San Francisco up-and-comer Praus rounds out the package with a languid psychedelic version that recalls Massive Attack with its moody grittiness and dubby tendencies.
Label and Artist Links:
www.facebook.com/roamrecordings
www.facebook.com/40thievesmusic