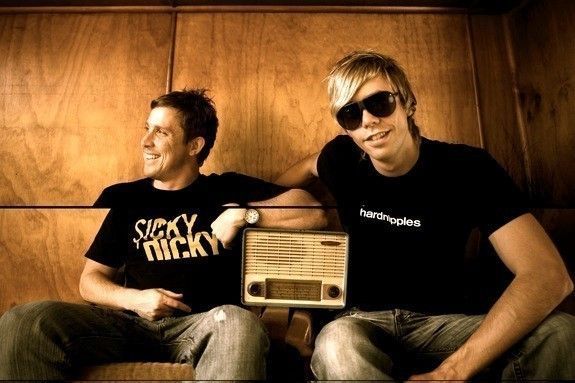 GOLDFISH ANNOUNCE EUROPEAN TOUR DATES
South Africa's MTV Award-winning live electronic band Goldfish officially announce the European leg of their current world tour, with dates in the UK, Germany, Austria, Sweden, Switzerland and Italy taking them through to the end of November.

Dave Poole and Dominic Peters, aka Goldfish, have just finished a blistering tour across the United States, with sell-out shows wowing audiences who came out in force to witness their electric blend of live instrumentation and funk-fuelled electronic house music.

One of the most unique acts in the world of dance music, their genre-defying live mix of saxophones, double bass, keyboards and pounding house beats has resulted in performances at Ultra Music Festival Miami and Ultra Beach Croatia, a branded and curated stage at Ultra South Africa, multiple residencies at the hottest clubs around the world including the legendary Pacha Ibiza, record breaking numbers of nominations, Nike and Kia commercial placements and a featured 2010 World Cup appearance.

Most recently, their remix of the legendary Rodriguez's 'Sugar Man' hit the top of the Hype Machine chart, reaping huge critical acclaim and delighting fans around the world.
November will see the duo visit Bullit Club in Munich, Qube Project in London, Caves Venue in Edinburgh, Vienna's Flex Club, Club Bellevue in Zurich, Parklane in Gothenburg and Naples' Posillipo Theatre, before heading back to South Africa to begin their seven-year-strong Submerged Sundays residency at Shimmy Beach Club in Cape Town.

For more information on Goldfish and to find out how to buy tickets to dates across the tour, visit www.GoldfishLive.com.

Goldfish Live European Tour Dates:
November 14th – Bullit Club, Munich GERMANY
November 15th – Qube Project, London UK
November 16th – Caves Venue, Edinburgh UK
November 18th – Flex Club, Vienna AUSTRIA
November 20th – Club Bellevue, Zurich SWITZERLAND
November 21st – Parklane, Gotherburg SWEDEN
November 22nd – Posillipo Theatre, Naples ITALY