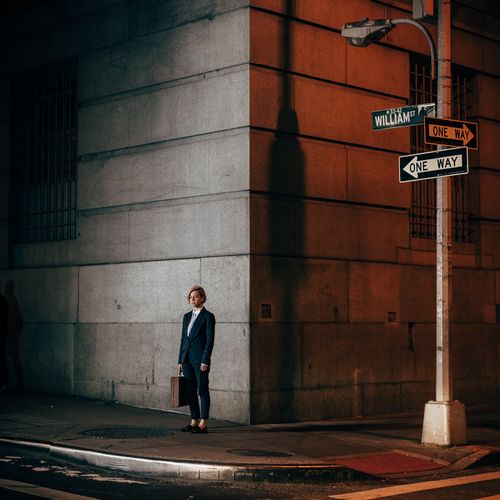 strangers on the internet - Good Problems
New York City experimental pop duo, Strangers on the Internet release their debut song "Good Problems".
Strangers on the Internet's sound is a mixture of electro-pop, hip-hop, and classical, with strings, chimes, pianos and vocoded soprano over 808-driven drums. Members Lilly Wolfson and Alex Neuhausen work as coders and live in a former textile factory where they produce tracks and record vocals in a homemade booth in the basement. Inspired by multi-faceted artists like Stromae, St. Vincent, Logic, and Kendrick Lamar, Strangers on the Internet run a series of underground music parties in Manhattan called Secret Loft where they frequently perform their own music and showcase other New York City bands.
"Good Problems" is influenced by 90's East Coast Hip-Hop. The vocals evoke 1920s jazz singers with an angelic pre-chorus and a punchy hook. The band cites Mary Poppins' "Feed the Birds", Kendrick's "The Art of Peer Pressure," and characters from The Wolf of Wall Street, Bonfire of the Vanities, and The Great Gatsby as sources of inspiration behind the track.
Explaining the group's name, Wolfson says, "I like reading about finance and economics. I got the name Strangers on the Internet from a headline in The Wall Street Journal. I was walking around Amsterdam and the notification popped up on my phone, something about a man who takes investment direction from strangers on the internet. He has lots of money, and they tell him what to invest in, and he invests in it. I thought, it's so funny how everything now is about that, it's all strangers on the internet. So that's our name."
"I started writing this song when I began my job at Bloomberg. The company's headquarters is in a skyscraper in midtown Manhattan and the sixth floor has this massive atrium that's like a glass temple with steel ribs. Skyscrapers remind me of churches, metal and glass stretching upward and so on, and I wanted the song to sound like a hymn in places, with choirs and piano and strings."
"My therapist once gave me this book called Bullish Thinking. It's basically a self-help manual for financial advisors who can't cope with the stress of their jobs. It's got stories of finance guys who killed themselves 'cause they lost money for their clients. Some of that stuff found its way into the lyrics – the third verse gets pretty dark."