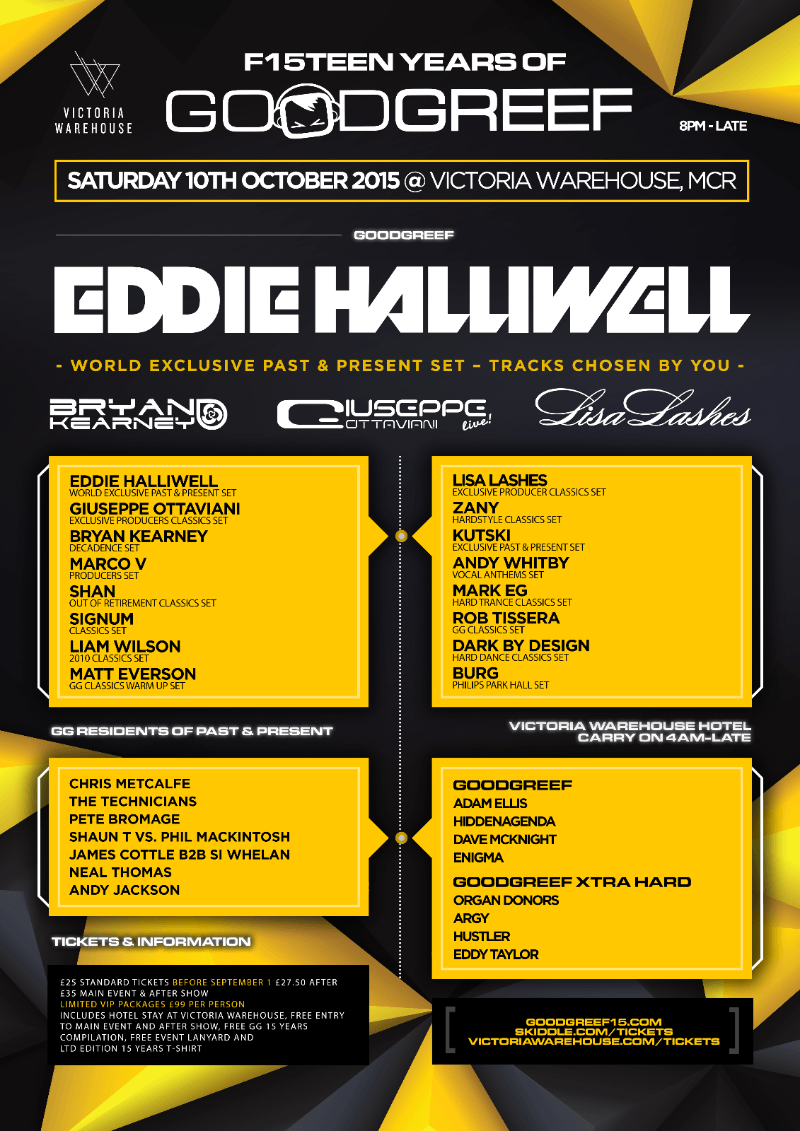 GOODGREEF 15th Birthday
In a throwaway culture where club nights, genres and even DJs themselves come and go literally overnight, to build a brand that not only stands the test of time, but becomes synonymous with an entire movement is a seriously impressive feat. Fifteen years ago, Goodgreef did exactly that and has been building on its historic legacy within the trance and hard dance scenes ever since.
On October 10th, the infamous yellow logo that has toured every major city in the UK, has been voted Mixmag's "Club Of The Year", has booked the likes of Hardwell, Tiesto, Paul Van Dyk, W&W, Sander van Doorn, Paul Oakenfold, Showtek, Headhunterz and the Tidy Boys, and has helped forge the globally-successful careers of Eddie Halliwell, Alex Kidd and Jordan Suckley, will be returning to the place where it all started for a birthday party like no other.
For the first time ever, Goodgreef will be taking over Manchester's legendary Victoria Warehouse and Hotel with a line-up that represents an incredible 15 year journey and reads as a "who's who" of Trance, Hard House and everything in between.
Backs have been scratched and strings have been pulled in order to bring together more than 30 of the scene's biggest names, WORLD EXCLUSIVE sets from Eddie Halliwell who will be spinning an exclusive 'Past & Present' set and a 'Producers Classics' set in the Xtra Hard Room from Lisa Lashes, one OUT OF RETIREMENT set from Shan, 15 extra special birthday sets curated specially for the party from the likes of Marco V, Kutski, Mark EG, Giuseppe Ottaviani, Bryan Kearney, Zany and Rob Tissera, an after party at the Victoria Warehouse Hotel and so much more.
Three rooms and one massive warehouse: all it needs now is you!
Not content with having just the one birthday bash though, Goodgreef and its naughty little brother, Goodgreef Xtra Hard, will be celebrating in style across the globe with warm up shows in Belfast, Dublin and Bournemouth, arenas at Creamfields, High Definition Festival and Mint Festival, an appearance at Privilege in Ibiza, and a 'Past, Present & Future' GG15 album due to land in September.
With four months warning, you've got no excuses… Goodgreef will see you in Manchester.
15 Years of Goodgreef – Past & Present & Future
Victoria Warehouse, Manchester
Saturday 10th October 2015
Tickets: http://bit.ly/Goodgreef15
Goodgreef (8pm – 4am)
Eddie Halliwell (World Exclusive Past & Present Set – Tracks chosen by YOU)
Giuseppe Ottaviani (Exclusive Producers Classics Set)
Bryan Kearney (Decadence set)
Marco V (Exclusive GG 15 Years Album set)
Shan (Out of Retirement Classics Set)
Signum (Classics set)
Liam Wilson (2010 classics set)
Matt Everson

Goodgreef Xtra Hard (8pm – 4am)
Lisa Lashes (World Exclusive – Last Ever producer classics set)
Zany (Hardstyle Classics set)
Kutski (Exclusive Past & Present set)
Andy Whitby (Vocal Anthems Set)
Mark EG (Hard Trance Classics set)
Rob Tissera (GG Classics set)
Dark By Design (hard dance classics set)
Burg (Philips Park Hall set)

GG Residents of Past & Present (8pm – 3am)
Chris Metcalfe
The Technicians
Pete Bromage
Shaun T vs. Phil Mackintosh
James Cottle b2b Si Whelan
Neal Thomas
Andy Jackson

Victoria Warehouse Hotel After party 4am – Late

Goodgreef
Adam Ellis
Hiddenagenda
David McKnight
Enigma

Goodgreef Xtra Hard
Organ Donors
Argy
Hustler
Eddy Taylor


Tickets On Sale Now
www.skiddle.com/tickets
www.victoriawarehouse.com/tickets

Main Event
£20 + BF Early Bird Tickets
£25 + BF Standard Tickets (Until 1st September)
£27.50 + BF Standard (From 1st September)
£35 + BF For Main Event & After Show

Very Limited Platinum VIP Packages £99 per person
(Includes Hotel Stay at Victoria Warehouse, Free Entry to Main Event and After Show, Free GG15 Years Compilation, Free Event Lanyard, LTD Edition 15 Years T-Shirt)

VIP Ticket £49 – Includes Free Entry to Main Event and After Show, Queue Jump,
Free Drink Token, GG15 Years Compilation, Free Event lanyard

Full Info: Goodgreef15.com / 07790 774 550