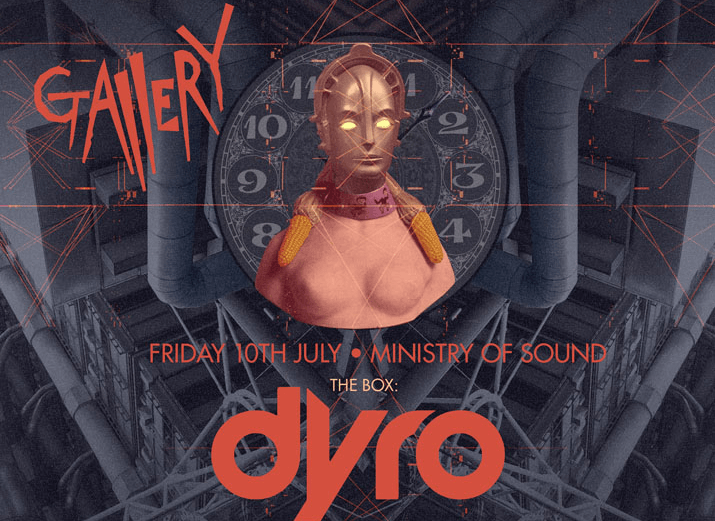 The Gallery presents Dyro
Dyro, the Dutch breakout sensation who came to prominence 2 years ago will be returning to headline The Gallery at Ministry of Sound on Friday10th July.
The energetic young gun remix maestro emanates from the same DJ stable as Hardwell, Nicky Romero and Dannic and with over a million likes on Facebook and a slew of festival dates this year, including EDC Las Vegas, has been hailed as the one to watch.
Dyro has consolidated his position in the upper echelon of the DJ rankings, which has seen him take an unprecedented rise through the ranks commanding the same respect as his countrymen. In part at least, this success can be attributed to forward thinking record label, WOLV, with a resolve to provide exposure for undiscovered talent as well as those beloved headline names. Hence this wide ranging philosophy is reflected in Dyro's pulsating club performances, with dirty big room bangers combined with untested tunes freshly mastered from the studio.
Also hitting The Box wil be Dutch DJ/producers DBSTF, Lancaster electro DJ D.O.D, Manchester's Futuristic Polar Bears and Pukka Up DJ Marko Liv.
103 sees Gallery founder Tall Paul, Gavyn Mytchel, Danny Dove, DeeAfro and Daniel Mielowski present a residents showcase.
The Gallery presents Dyro
Box:
Dyro
DBSTF
D.O.D
Futuristic Polar Bears
Marko Liv
103:
Tall Paul
Gavyn Mytchel
Danny Dove
DeeAfro
Daniel Mielowski