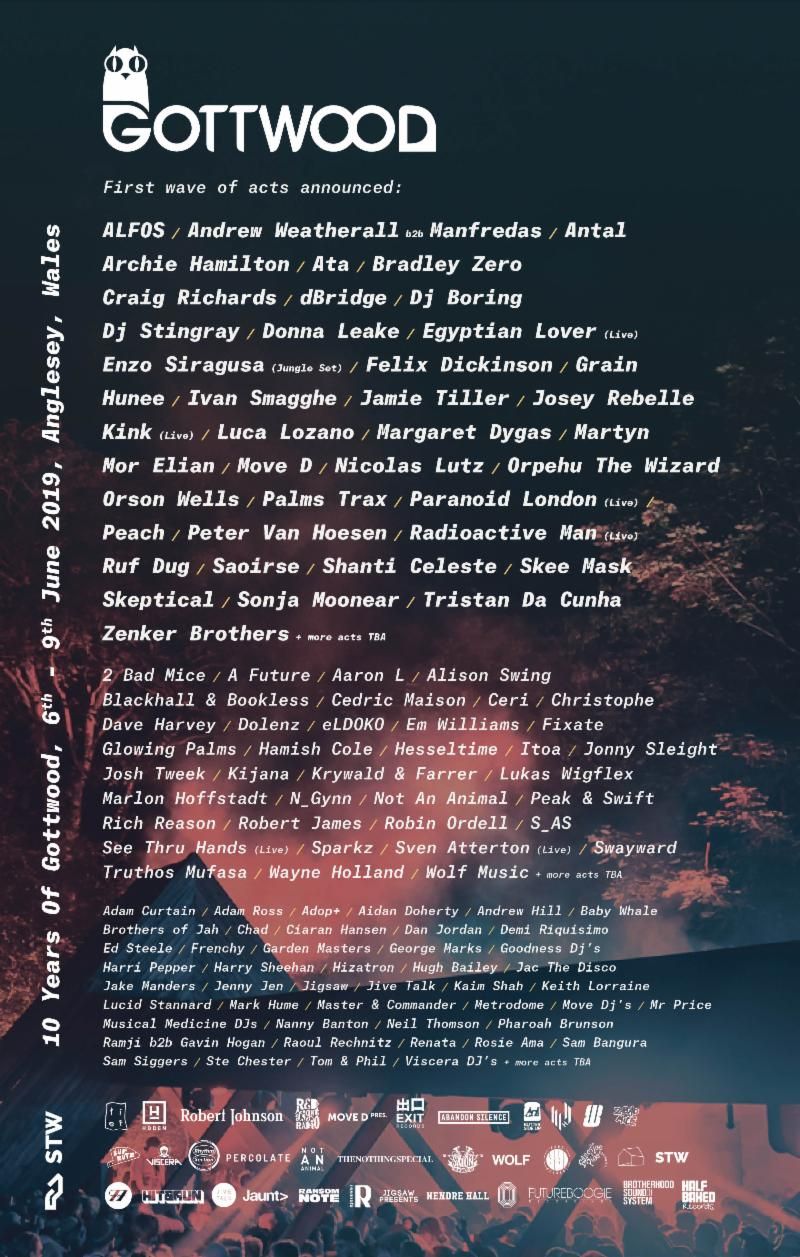 Gottwood Announce First Wave Of Acts For 10th Anniversary Celebrations in 2019
Living up to its reputation as the most beautiful festival in Britain, Gottwood – located within a Welsh forest next to a secluded beach – is leaving no stone unturned for its 10th anniversary.
As ever the festival remains true to its roots and is supporting the fast rising stars of the scene, as well as inviting the most respected selectors and live acts from around the world. These acts, alongside the unique and carefree crowd all eagerly assemble each June wanting to participate in something special, and most importantly all proud to call themselves the Gottwood family.
It's an astonishing offering, spanning the furthest corners of dance music and beyond. There are welcome returns for the likes of Hunee, Sonja Moonear, Bradley Zero, Move D, Ruf Dug, Palms Trax, Andrew Weatherall, Margaret Dygas, Antal and Craig Richards; just a handful of the many artists that have shaped the festival over the last decade. The 10th anniversary debutants are just as eye-catching, including Shanti Celeste, Luca Lozano, Jamie Tiller, Ivan Smagghe, Donna Leake, Dj Boring and the rapidly rising Peach.
Hypercolour will be hosting for their 8th consecutive year with techno mainstay DJ Stingray, Josey Rebel and the fast rising Mor Elian. This year Craig Richards will be going for 5 hours b2b with Nicolas Lutz, whilst another interesting pairing sees Andrew Weatherall going b2b with Manfredas. Old time jungle stalwarts 2 Bad Mice return and host their stage alongside Panorama Bar resident Martyn and Fuses Enzo Siragusa, who will be treating dancers to a rare jungle set.
Bristol taste makers Banoffee Pies throw an exciting curveball into the mix with a special live performance from LA's pioneering hip hop producer Egyptian Lover – further live acts across the weekend include, Radioactive Man, arguably the king of the live performance KiNK and in support of their new album due next year – Paranoid London.
Fresh from releasing his first album in ten years, dBridge brings his unique strain of thunderous drum and bass to the forest and will be hosting an Exit Records showcase featuring Skeptical and Fixate amongst others. Illian Tapes Zenker Brothers and their label mate Skee Mask will be appearing, as will legendary Frankfurt club Robert-Johnson, coming for their first Gottwood in celebration of their own 20 years with a takeover from Ata and Orson wells.
The 10 year celebrations of one of the UK's best loved festivals are set to be a truly stunning affair, with many more artists, the live stage acts, art and all the collaborations still to come.
The first acts for Gottwood 2019 lineup are listed below, with tickets available via www.gottwood.co.uk
LINEUP
ALFOS / Andrew Weatherall b2b Manfredas / Antal / Archie Hamilton / Ata / Bradley Zero / Craig Richards / dBridge / DJ Boring / DJ Stingray / Egyptian Lover (Live) / Enzo Siragusa (Jungle set) / Felix Dickinson / Grain / Hunee / Ivan Smagghe / Jamie Tiller / Josey Rebelle / KiNK (Live) / Luca Lozano / Margaret Dygas / Martyn / Mor Elian / Move D / Nicolas Lutz / Orpheu The Wizard / Palms Trax / Paranoid London (Live) / Peach / Peter Van Hoesen / Radioactive Man (Live) / Ruf Dug / Saiorse / Shanti Celeste / Skee Mask / Skeptical / Sonja Moonear / Tristan Da Cunha / Zenker Brothers + more tba
—
2 Bad Mice / A Future / Aaron L / Alison Swing / Blackhall & Bookless / Cedric Maison / Ceri / Christophe / Dave Harvey / Dolenz / eLDOKO / Em Williams / Fixate / Glowing Palms / Hamish Cole / Hesseltime / Itoa / Jonny Sleight / Josh Tweek / Kijana / Krywald and Farrer / Lukas Wigflex / Marlon Hoffstadt / N_Gynn / Not An Animal / Peak & Swift / Rich Reason / Robert James / Robin Ordell / S_AS / See Thru Hands (Live) / Sven Atterton (Live) / Swayward / Sparkz / Truthos Mufasa / Wayne Holland / Wolf Music
—
Adam Curtain / Adam Ross / Adop+ / Aidan Doherty / Andrew Hill / Baby Whale / Brothers Of Jah / Chad / Ciaran Hansen / Dan Jordan / Demi Riquisimo / Ed Steele / Frenchy / Garden Masters / George Marks / Goodness DJs / Harri Pepper / Harry Sheehan / Hizatron / Hugh Bailey / Jac The Disco / Jake Manders / Jenny Jen / Jigsaw / Jive Talk / Kaim Shah / Keith Lorraine / Lucid Stannard / Mark Hume / Master & Commander / Metrodome / Move DJs / Mr Price / Musical Medicine DJs / Nanny Banton / Neil Thomson / Pharoah Brunson / Ramji b2b Gavin Hogan / Raoul Rechnitz / Renata / Rosie Ama / Sam Bangura / Sam Siggers / Ste Chester / Tom & Phil / Viscera DJs