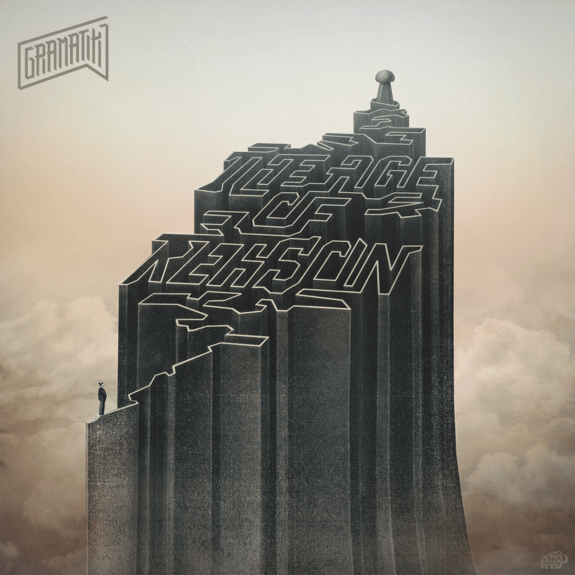 Gramatik – The Age Of Reason
2013 saw Gramatik's career reach new heights. With sell-out tours over the world, the introduction of his eclectic soul collective Exmag, and the launch of his very own record label, Lowtemp, the last twelve months have been the busiest of his young career so far. With 2014 barely seeing the light of day, that very same imprint is already set for its first album release. On 25th January, The Age Of Reason drops to the world, and in typically anarchic fashion, it's all yours for FREE.

Of course, with Denis (aka Gramatik), it won't just stop there. To push his philosophy of 'freeing music by making music free', he partners on the record with file-sharing innovators BitTorrent for a free download bundle to instill his view within the industry. Available from all major outlets thereafter, the impetus for Denis is to create a discourse of choice and freedom in music with the people acquiring the album. Enigmatic, but always outspoken, he goes deeper with the motivation behind The Age Of Reason in saying:

"[It is] inspired by a stand-up segment by comedian George Carlin. He made a joke on the fact that he was Catholic until he reached the age of reason. I also firmly believe that there comes a time in a human life when you reach the so-called 'age of reason' and realize that there are so many irrational beliefs, shameless contradictions and illogical restrictions inflicted upon society for various malicious reasons, things that were deliberately designed to keep us in line and prevent us from reaching our full potential as a species. Some people reach it sooner, others later, but a majority unfortunately never do. [Through my music] I'd like to guide more people to reach the age of reason sooner. Maybe. Or, hopefully at least unite the ones that feel the same way."

Gradually teasing the album with 'You Don't Understand' and 'Obviously' and most recently 'Get A Grip Feat. Gibbz' with THUMP, its overall sound lies still unbeknown to his cult fan base. With an abundance of collaborators and a year of influences taken on since his last EP, '#digitalfreedom', the results are guaranteed to be even more diverse and rich in depth than ever before.


Taking the record around the world in a host of major dates soon to be announced, he kicks things off in his home-from-home New York City at the Best Buy Theater on the very day it's released, 25th January. With an all-star line up featuring TOKiMONSTA, Gibbz and Late Night Radio with more surprises on the way, this one is not to be missed. Tickets are available to buy here where you will also receive a limited addition The Age Of Reason Pin for free once at the show.

The Age Of Reason
Tracklist
1. Brave Men Feat. Eskobars
2. Torture Feat. Eric Krasno
3. Bluestep
4. Pardon My French
5. We Used To Dream Feat. Exmag & Gibbz
6. You Don't Understand
7. Obviously Feat. Cherub & Exmag
8. Control Room Before You Feat. ILLUMNTR
9. Prime Time
10. Get A Grip Feat. Gibbz
11. Just Jammin' NYC Feat. Exmag
12. Expect Us
13. Faraway Feat. Orlando Napier
14. No Turning Back
15. It's Just A Ride