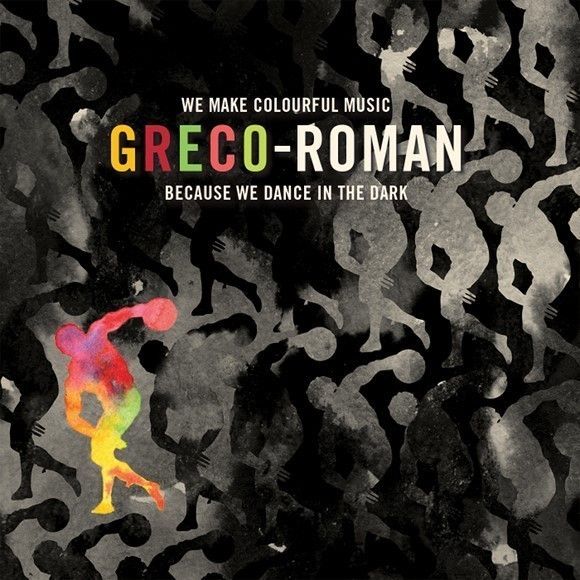 Greco-Roman – We Make Colourful Music Because We Dance In The Dark
The experimental popular music collective step out of the shadows with their definitive debut label compilation: a kaleidoscopic who's who of underground and not-so-underground-anymore electronic talent.
"But we aren't a record label!" protests Alexander 'Full Nelson' Waldron. Greco-Roman can be forgiven for being misunderstood – its clandestine roots have meant that the name has, or hasn't, popped up in many different places over the last few years. Originally a rotating guest back-to-back DJ partnership, then a speak-easy party in London and their second home of Berlin, a lack of website, a hatred of social media, a knack for spelling their own name wrong and a whole host of logo-less, genre hopping 12"s from the likes of Disclosure, Totally Enormous Extinct Dinosaurs, Roosevelt, Vampire Weekend's Baio, Hackman and Joe Goddard have all meant that no-one really knows what it is this loose collective of musicians and DJs on the Berlin-London axis actually do.
So maybe now it's time to set the record straight. Meeting over a common love of left-of-centre pop music in the multi-coloured hallways of London's Island Records in 2005, Dom Mentsh, Alexander Waldron and Joe Goddard threw one party together and then almost immediately went separate ways – Mentsh into music management, Goddard to be the production backbone of the influential Hot Chip, Waldron to Berlin to run !K7 Records and electronic music broadcast Boiler Room Berlin – but over the years they kept meeting to run cult unadvertised parties in off-beat locations and play records loud that no-one else did. Three fingers on the pulse and the loose, experimental nature of their events quickly spawned daring live acts from T.E.E.D., David E Sugar and Drums of Death and the genre-bending records to go with them. This compilation captures their sporadic output of breakthrough records, opening with 2011 anthem 'Gabriel' by Goddard himself, skipping through genres with ease before turning to the early hours of their sweaty parties with a remix disc graced by electronic dignitaries such as Four Tet, Soulwax, Roman Fluegel and fittingly ending with a David E Sugar remix – the artist that accidentally encouraged Greco-Roman to release records when he wrote a song about them after playing their first party: 'Oi New York, This Is London, Oi New York, Greco-Roman Soundsystem!'
Popular music with one foot on the dancefloor, or club tracks with an ear for melody and pathos, whichever way you look at it, Greco-Roman make colourful music because they dance in the dark.
To give you just a taste of what the Greco-Roman family get up to and an insight of some of the artists they work with, check out the THUMP-supported video for 'Step Together' :