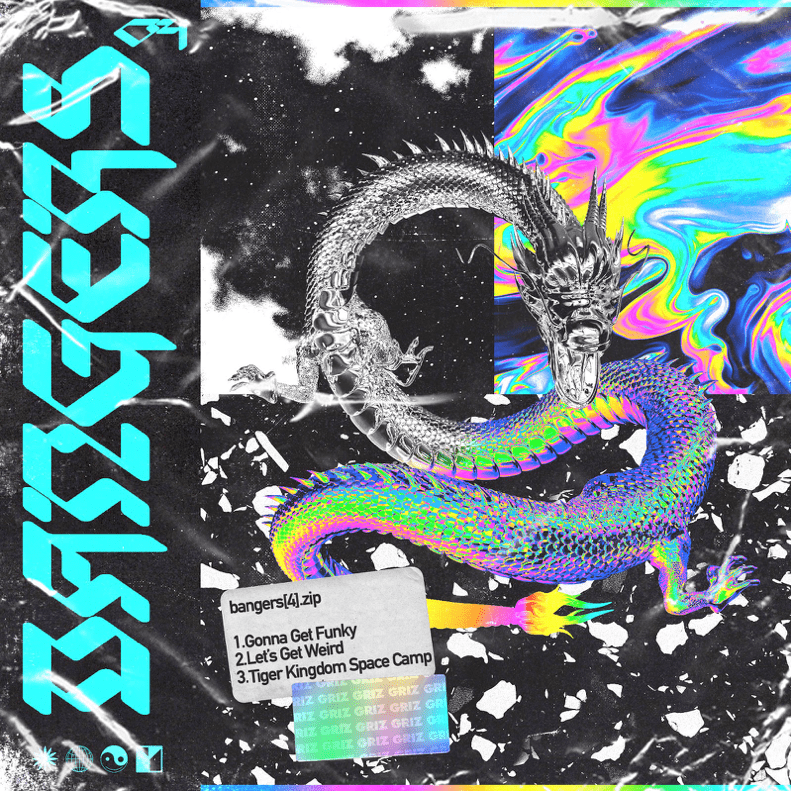 GRiZ Returns With Fourth Bangers.Zip EP Featuring Groovy House Track "Gonna Get Funky" and Bass-Heavy Tunes "Let's Get Weird" and "Tiger Kingdom Space Camp"
Just this year alone, GRiZ has embarked on an international tour, released his full-length studio album, Ride Waves, graced fans with three Bangers.Zip EPs and collaborated with creators from across the musical spectrum. Showing no signs of slowing down, today he returns with his fourth EP in the Bangers series. Featuring tracks that fans have eagerly awaited after previewing them on the road, Bangers[4].Zip opens with "Gonna Get Funky," a groovy house track – a first in his four-part collection – followed by the heavy-hitting dubstep tune, "Let's Get Weird," and and brassy bass crowd pleaser, "Tiger Kingdom Space Camp" which samples prominent Australian band, The Cat Empire. Listen to Bangers[4].Zip, HERE.
Kicking off the package comes an unexpected sound on GRiZ's Bangers series, one that finds its stride in a house groove rather than a headbanger. "Gonna Get Funky" lays heavy on the boogie and vocoder vocals, showcasing GRiZ's versatility and ability to create a dancefloor stepper. Next, he shifts gears into dub-overload with glitchy synths and wobbly basslines on "Let's Get Weird". A production of epic proportions, the monstrous drops are juxtaposed with playful vocal samples that call for fans to literally get weird. Rounding out his eclectic palette on the EP, "Tiger Kingdom Space Camp," arrives with a vibrant horn section in true GRiZ fashion. Backed by bass-laden buildups, the instrumental anthem has been performed by a live marching band along a few of the stops on the Ride Waves tour.
Last month GRiZ brought his massive international run to a close, playing iconic venues across America like Berkeley's Greek Theater, LA's Palladium, Chicago's Navy Pier and Denver's Red Rocks. Debuting his most evolved production rig to date, fans found themselves immersed in The Imaginarium, a meticulously curated experience with custom visuals, enhanced special effects and more lasers than ever before.
As the year-end approaches, GRiZ gears up for his fan-favorite holiday event GRiZMAS, returning for back-to-back sold-out shows on Friday, December 13 and Saturday, December 14 at the Masonic Temple in Detroit for the 6th year. On Friday night, he'll play a throwback '10-'17 set, whereas Saturday night sees him perform a set inside The Imaginarium. In advance of the weekend, he'll roll-out his '12 Days of GRiZMAS' event series, bringing the community of Detroit together for concerts, activities, and volunteerism all in the name of charity. 100% of the proceeds from GRiZMAS will benefit Seven Mile, a nonprofit organization that raises awareness and funds for music, arts and coding programs for Detroit's inner-city youth.