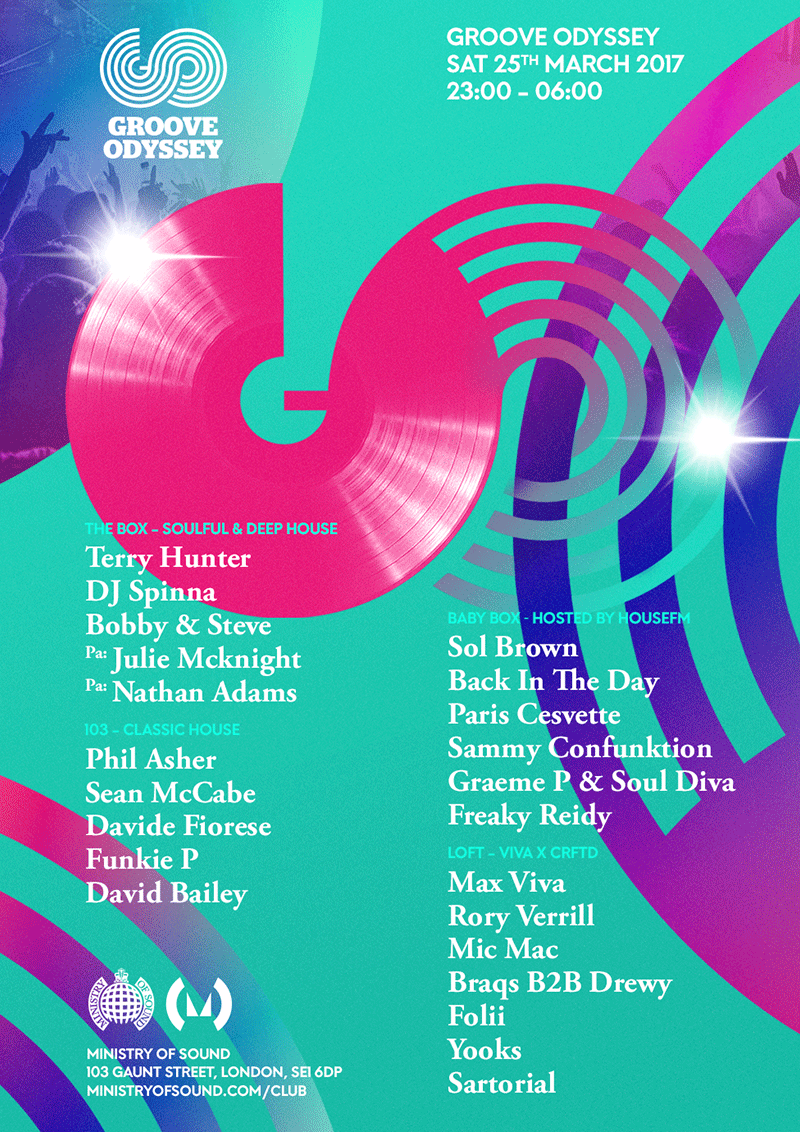 Groove Odyssey at Ministry of Sound
Groove Odyssey returns on Saturday 25th March with their renowned soulful house night before they head off to Ibiza for their 4-day summer event 'Go Ibiza'.
Terry Hunter will be taking center stage, with over 25 years of musical influence Terry has created a style of spinning that consists of collaborating great songs with a unique soulful sound. DJ Spinna and GO residents Bobby & Steve will be following up proceedings in the main room, with Julie McKnight and Nathan Adams joining the party with their soul stirring vocals in a special live PA set.
Groove relentlessly brings together people of all ages and backgrounds united by their love of one great thing… real house music.
GROOVE ODYSSEY
Sat 25 Mar 2017
11pm — 6am
The Box
Terry Hunter
DJ Spinna
Bobby & Steve
Julie McKnight Live PA
Nathan Adams Live PA
103
Phil Asher
Sean McCabe
Davide Fiorese
Funkie P
David Bailey
Baby Box
Sol Brown
Back In The Day
Paris Cesvette
Sammy Confunktion
Graeme P & Soul Diva
Freaky Reidy
The Loft
Max Viva
Rory Verrill
Mic Mac
Braqs B2B Drewy
Folii
Yooks
Sartorial