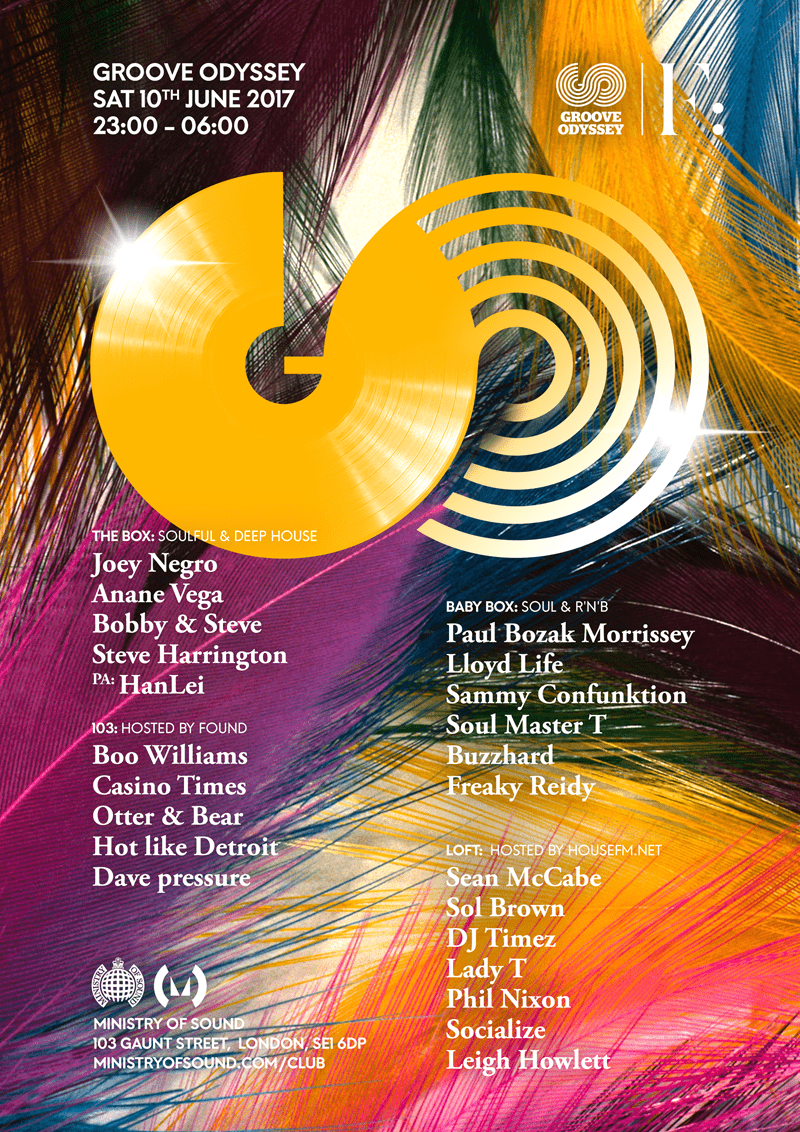 Groove Odyssey: Ibiza Reunion
Groove Odyssey returns on Saturday the 10th of June, with our GO Ibiza reunion party. Kicking off the Summer season with another awesome lineup We're proud to present one of the greats Joey Negro, alongside the head of Nulu records Anane Vega, and a live performance from U.K. Super talent Hanlei, with full support from your Groove Odyssey residents Bobby & Steve, plus Steve Harrington in the main room.
Hosting room 103, we welcome successful London festival & club promoters Found, featuring djs Boo Williams, Casino Times, Otto & Bear and Hot like Detroit- The Loft is hosted by Housefm featuring Sean McCabe, Sol Brown plus many more, with the Baby Box giving you Soul & RnB Featuring Paul Bozak Morrisey, Lloyd Life and Sammy Confunktion.
Sat 10 Jun 2017
11pm — 6am
The Box: Soulful & Deep House
Joey Negro
Anane Vega
Bobby & Steve
Steve Harrington
HanLei PA
103: Hosted By Found
Boo Williams
Casino Times
Otter & Bear
Hott Like Detroit
Dave Pressure
Baby Box: Soul & R 'N' B
Paul Bozak Morrissey
Lloyd Life
Sammy Confunktion
Soul Master T
Buzz Hard
Freaky Reidy
Loft: Hosted By HOUSEFM.NET
Sean McCabe
Sol Brown
DJ Times
Lady T
Phil Nixon
Socialize
Leigh Hewlett