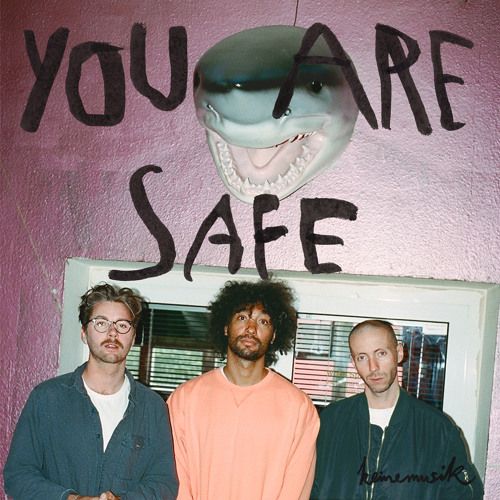 Keinemusik (&ME, Rampa, Adam Port) - Guilt Trip
Keinemusik announce the release of 'You Are Safe.' Going for such an album titled seems odd in these unsettling times, but it illustrates the safe-haven they have built itself over the last eight years. In their self-determined action space, producers Rampa, &ME and Adam Port; DJ Reznik and painter/visual artist Monja Gentschow make an offer to every listener: put your headphones on, dance around your living room, forget everything and let go. When the music plays – you are safe. Keinemusik's backcatalogue has traditionally been loaded with customary EP-formats, so when &ME, Rampa or Adam Port starting discussing a joint venture, a full-length album seemed like a logical continuation of the label's annual Workparty releases, just bigger and with more breathing room to zoom out of the dance floor-normative.
Make no mistake: the tonal nucleus of this record can be conceived as tracks elaborating what Keinemusik stands for and tracks that will no doubt set the tone for what's happening on dancefloors worldwide in the coming months. The groove ridden 'Civilist' combines layered atmospherics, broken up with extensive drum solos, while 'MBH,' despite it's trippy tribal-beat, monk-like chants and eccentric use of distorted guitar sounds, could easily implement any peaktime-set. Elsewhere you'll find plenty of unexpected exercises in style – state of the art R'n'B-reverie 'Up And Down' features born and London based Chiara Noriki, while Jennifer Touch lends her lush vocals to the wave-induced retro-sound of 'Lover.' Elsewhere there's the geeky meditative jam 'Operator' and an irresistible Stevie B. homage "Bumper" featuring former Hercules & Love Affair and Jessica 6 member Nomi Ruiz, who has also been the voice for Keinemusik's own NR& project. Between tribal percussion, atmospheric synthetics and haunting vocals, first single 'Guilt Trip' perfectly reflects what the album has to offer musically.
Raising the sound signature and stylistic expression of the collective to the next level, 'You Are Safe' combines club pragmatics with home listening pleasures like no other Keinemusik has done before.
Friday 10th November
Labyrinth presents Keinemusik: &Me, Adam Port, Culoe De Song
The Steelyard, London
https://www.facebook.com/keinemusik/
https://soundcloud.com/keinemusik