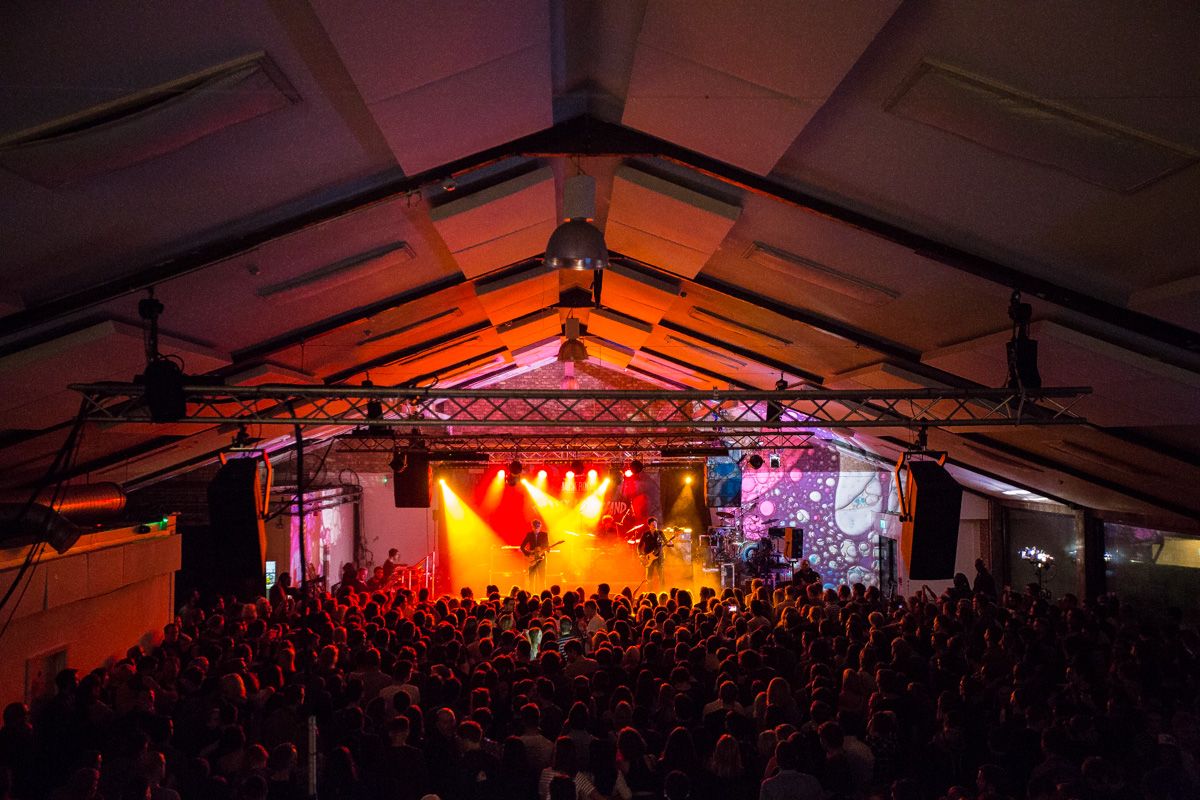 Hackney Wonderland festival announce more acts…
Across five neighbouring Hackney venues, Hackney Wonderland hosted an incredible roster of live acts completely jam packed with stalwarts of the scene and hidden gems including Mystery Jets, We Are Scientists, Lucy Rose, Stealing Sheep, Swim Deep, Jim Jones & The Righteous Mind, Demob Happy, Syd Arthur, Kitty Daisy & Lewis, The Voyeurs and so many more.
Closing the already charged Oval Space bill on Saturday, Mystery Jets headlined with a scintillating set of new favourites and classics, and the band could be seen in Oval Space dancing to the rest of the line-up throughout the night. We Are Scientists characteristic high-energy was electric as they weaved in what they called "Rudy Giuliani" era singles and new album material. Liverpudlian electro-pop outfit Stealing Sheep entranced the crowd with their hypnotic set all whilst donning matching polka dot jumpsuits.
Over at the Pickle Factory on Saturday, Cosmic Strip played a brooding and thoughtful set that would have Mazzy Star fans rejoicing. The Voyeurs closed the Sebright Arms with their top-notch brand of scuzzy rock and roll. Over at London Fields Brewhouse Is Tropical closed proceedings, with support from Demob Happy, the anti-dote to squeaky pop we've all been waiting for.
On Sunday the astronomically talented Lucy Rose headlined Oval Space with propulsive rhythms, preceded by Kitty Daisy & Lewis; Theme Park; Jake Isaac and Hackney Wonderland favourites Electric Child House.
Just over the road at the Pickle Factory, London based garage-pop foursome Yuck closed the venue with a proud-to-be-loud fuzz-ladened alt-rock extravaganza. The Pickle Factory also saw Tempesst, Paradisia, Glass and Grace Lightman take the stage. At London Fields Brewhouse fans saw the snarling and grungily honest Misty Miller ahead of former Tribes frontman Johnny Lloyd, who showed off his carefully penned lyrics and musical prowess.
Over at the Sebright Arms, eager Hackney Wonderlanders caught Francobollo, John J Presley, and Alice Jamima before venue headliners Cabbage proved that you should believe the hype.
Founded by legendary indie promotors Cherry Cola Club, Hackney Wonderland has fast become a destination for fans wanting to catch their favourite bands in intimate venues, as well as up and coming acts emerging from the scene, all thanks to its masterfully curated line-ups, community atmosphere, and a ticket price that won't break the bank.
www.hackneywonderland.com
www.facebook.com/hackneywonderland
Twitter: @Hackney_Wonder
Instagram: @Hackney_Wonderland