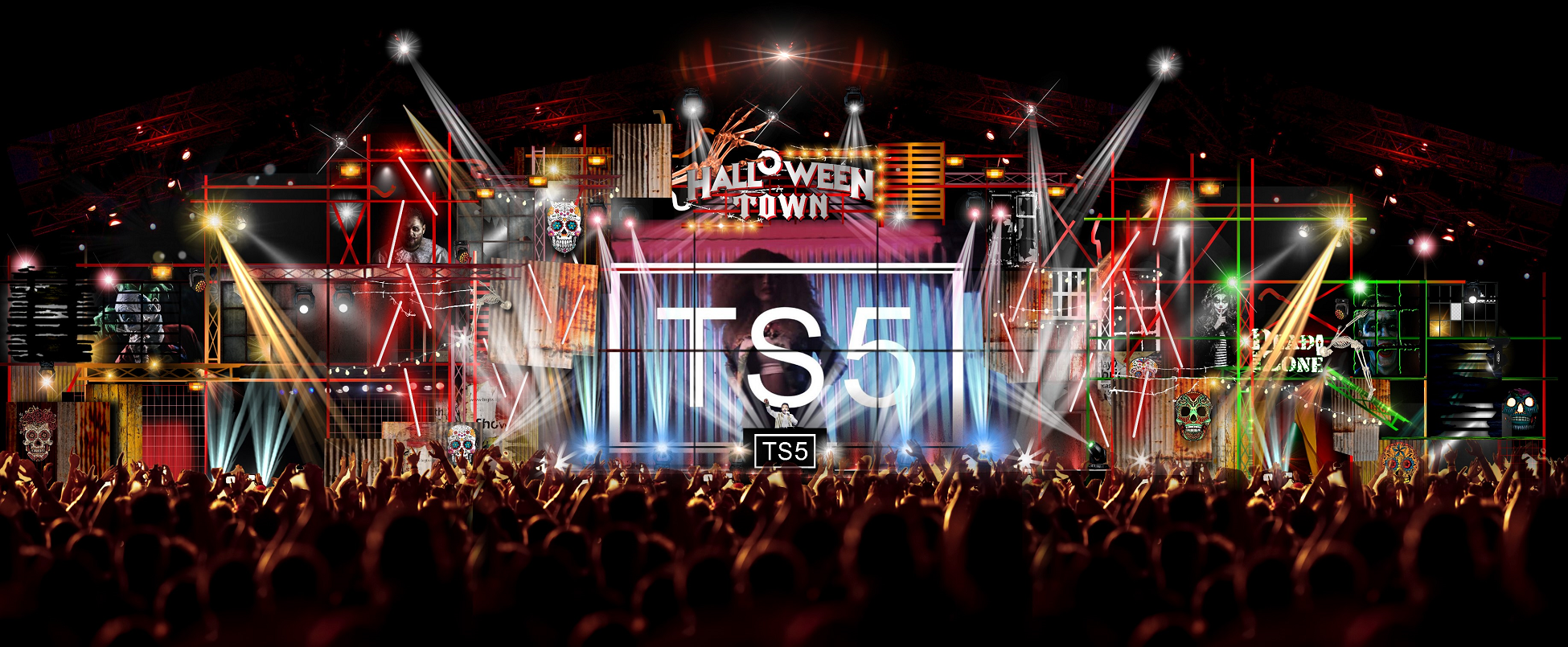 Halloween Town Festival Launches w/ Craig David, Andy C, DJ EZ + More
Up to 15,000 guests are expected across three days as the UK's biggest Halloween show lands at The Great Meadow in Bedford from Friday 29th to Sunday 31st October 2021.
Halloween Town Festival takes place in a huge Big Top, festival-style tent and takes guests on a journey through eerie entertainment to a massive night of music.
With incredible makeup artists ready to turn them into creatures of the night, and bizarre and scary performers along the route, guests will become part of Halloween Town itself; a custom-built, spectacular three-storey arena with stunning production and lighting where a dystopian future meets Day of the Dead.
All roads lead to the Sugar Skull Stage, complete with 40ft LED screen, where guests will be entertained by some huge names, including Craig David presents: TS5, Nathan Dawe, and Majestic (Friday), Andy C, DJ EZ, David Rodigan, Shy FX, and Kings Of The Rollers (Saturday), and The Levellers, Peter Hook & The Light, and Dreadzone (Sunday).
Halloween Town is an experience; where the undead come to dance. Upon arrival, guests are met by the zombie ticket collectors and ushered to the cloakroom, where hands come through the Curtain of Night to grab coats and bags. Suitably spooked, guests can head straight to the Bar of the Bizarre, a three-story construction of corrugated iron, broken windows and barbed wire, barely holding in the nightmarish creatures within. Monstrous arms burst through the backdrop holding lights, but festival-goers are advised not to get too close…
Guests are invited to dress up in their best Halloween outfits and makeup (prizes will be given for the best outfits on the night), or they can come to the Halloween Town makeup bar where the professional makeup artists will give them a macabre makeover they will never forget.
With all this incredible music it's understandable that guests may need to chill out. They can head to The Chiller, but be warned, with the killer clowns in charge the chillout may not be quite as relaxing as it first appears. For those with VIP tickets the disused tube station awaits. The zombie ticket inspector welcomes VIPs through the tunnel and deep into the underground.
There is no other Halloween experience like Halloween Town Festival. Where Halloween meets hedonism and the music is so good the undead will dance all night. Enter Halloween Town and before long you'll never want to leave….
Tickets start at just £43 + b/f (Friday / Saturday) or £34.50 + b/f (Sunday) with options to spread payments, from www.halloweentownfestival.com
Event Details
Halloween Town Festival
Friday 29th – Sunday 31st October 2021
The Great Meadow, Bedford, MK43 0YG
Friday 29/10
Craig David Presents TS5
Nathan Dawe
Majestic
Sean Harvey
DJ Wreckdown
Gates open: 16:00 – close: 22:45
Saturday 30/10
Andy C | DJ EZ
David Rodigan
SHY FX
Kings Of The Rollers
Katalyst
Gates open: 15:00 – close: 22:45
Sunday 31/10
The Levellers
+ Special Guests
Peter Hook & The Light
Dreadzone
Gates open: 17:00 – close: 22:30
Follow
https://facebook.com/halloweentownfestival
https://instagram.com/halloweentownfestival