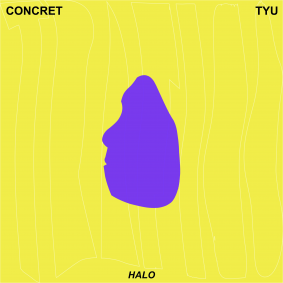 Concret & TYU - Halo EP
The next Trafico Music EP comes from Concret & TYU with Corrado, Luzius, Bourisade and Bellville on the remixes. The standout tracks come as a limited edition, 250 run vinyl pressing with a digital release a month later.
Concret is Italo-Mexican musician and DJ Diego Angelico Escobar and sound-designer, keyboardist and producer Q-pha from Italy. Next to guesting on Red Light Radio and Rinse FM, Diego has played all over Europe and released on Her Majesty's Ship and Akbal Music. They have an involving, mid-tempo techno sound that is always artful. Here they link with Tyu, a Mexican producer who releases on DURO and Calypso Records as well as Trafico.
First up is the fantastic 'Halo,' a dystopian bit of robot-techno with stiff bass stabs and snaking synths. It's evocative machine music with a real angsty edge. The opening remix comes from production whizz Corrado Bucci who is currently working with labels like Compost Records, Local Talk and BBE Recordings. He turns 'Halo' into an uplifting affair with dancing melodies and brightly lit synths that take you higher. Luzius is next, a Mexican producer who is part of the SsenSorial crew, and flips the track into a more stripped back bit of supple minimal techno.
Concret & TYU then serve up the superb 'Black, Blue, Yellow, Green', a raw bit of deep but metallic house, with dark vocals and end-of-the-world chords that bring to mind a real sense of cinematic finality. Comeme's revered Bourisade then builds on a discography that features one of last year's best albums with a remix that reworks the drums into busy, punchy things as slippery synths slither over the top in rueful fashion. Closing things out is a remix from Bellville that reimagines the track as a zoned out piece of house music with sci-fi synth motifs and smooth drum work all getting you into a reverie.
This is brilliantly futuristic music that brings new emotion and drama to the dance floor.
Tracklist:
1. Concret & TYU – Halo (Original mix)
2. Concret & TYU – Halo (Corrado Bucci remix)
3. Concret & TYU – Halo (Luzius remix)
4. Concret & TYU – Black, Blue, Yellow, Green (Original mix)
5. Concret & TYU – Black, Blue, Yellow, Green (Borusiade remix)
6. Concret & TYU – Black, Blue, Yellow, Green (Bellville remix)