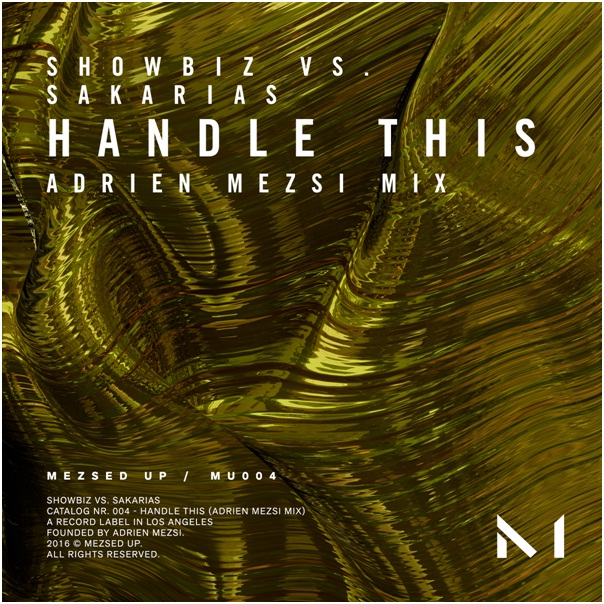 Showbiz & Sakarias - Handle This (Adrien Mezsi Mix)
Serbian DJ and producer duo Showbiz, have been making huge waves since exploding onto the dance music scene. Marko Tadic and Lazar Stojanovic, the masterminds behind the Showbiz project, are responsible for hit singles like: 'Ye Mele', out on Void Records and have been gaining vast support from tastemakers such as: Fedde Le Grand, Dannic, Marcus Schossow, Nari & Milani and Wayne & Woods – huge achievements for a pair that have only been working together for 2 years.
Their collaborator Sakarias is also no stranger to success. Based in Morocco, he has been behind major records like 'Let It Rock', which was released via Ale Mora's renowned imprint Beatmashr Records – cementing Sakarias' place alongside the scene's fastest rising stars.
Showbiz and Sakarias' time in the studio together has resulted in a peak time banger called 'Handle This'. Full of driving percussion, a heavy yet groovy bass-line, perfectly executed breaks and razor sharp synths, 'Handle This' contains all the weapons required to send any club or festival into a state of chaos – a must for any DJ's record collection.
Los Angeles native Adrien Mezsi jumped at the opportunity to sign 'Handle This' to his emerging new label Mezsed Up, and loved the record so much that he decided to add his own touches to this Electro infused Progressive bomb. With Showbiz and Sakarias joining an impressive roster that includes artists such as: Noizy Mark, MAD2MAD, Dujak, Rayven & Valexx and Xaver, their rise to stardom shows no sign of slowing down anytime soon.
Watch on Youtube
https://www.youtube.com/watch?v=6SXLFsMiEkU
Purchase & Stream Here
http://smarturl.it/HandleThis
Adrien Mezsi
http://www.adrienmezsi.com
https://www.facebook.com/adrienmezsi
http://www.twitter.com/adrienmezsi
http://www.soundcloud.com/adrienmezsi
http://www.instagram.com/adrienmezsi
Showbiz Online
https://www.facebook.com/OfficialShowbiz
https://twitter.com/weareshowbiz
https://soundcloud.com/showbizmusic
https://instagram.com/showbizmusic
Sakarias Online
https://www.facebook.com/sakariasofficial
https://twitter.com/sakariasss
https://soundcloud.com/sakarias_official
http://instagram.com/sakariasss
Mezsed Up Records Online
http://www.mezsedup.net
http://www.facebook.com/mezsedup
http://www.twitter.com/mezsedup
http://soundcloud.com/mezsedup
http://youtube.com/user/mezseduptv
http://instagram.com/mezsedup