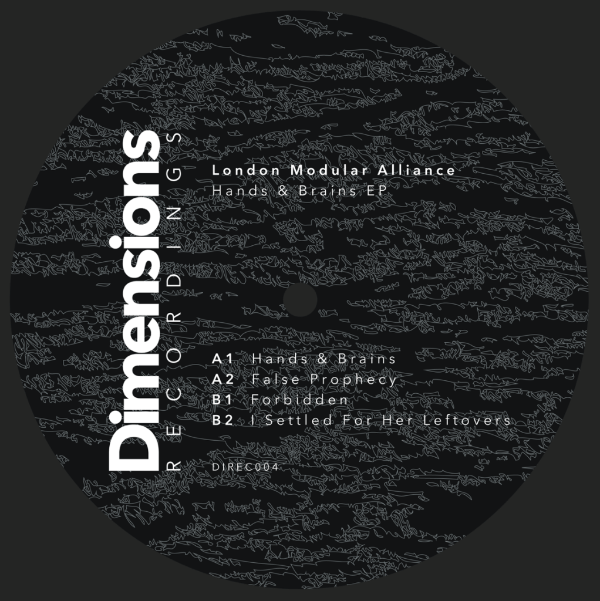 London Modular Alliance - Hands & Brains EP
London Modular Alliance announce 'Hands & Brains EP' on Dimensions Recordings.
Fresh from their 'Dimensions Recordings : An Introduction' debut (sell out) release in July, Dimensions Recordings are back with a their second outing, an electro heavy release from revered modular outfit, London Modular Alliance. Set for release on 8th of September on 12" vinyl with digital to follow, the 'Hands & Brains' EP is a perfect summation of the dark electro sound that London Modular Alliance capture so perfectly. As the minds behind London's Modular store in Hackney famed for selling equipment to the likes of Thom Yorke and Aphex Twin, their high spec, specialist gear is used throughout the record, reflecting the passion and expertise of the duo, as well as the flourishing sounds of an enigmatic and intriguing scene.
Starting strong with the bubbling, modern acid of title track, 'Hands & Brains', the EP manages to demonstrate a full range of the electro spectrum across four tracks. 'False Prophecy' showcases a more foreboding feel, with punchy drum rolls and a severely stripped back melody, which melts effortlessly into the Drexciyan underwater inspirations of 'Forbidden', before closing out with the brooding machine drone of 'I Settled for Her Leftovers', it's clear that the future of the genre belongs to London Modular Alliance and it's in very safe hands.
London Modular Alliance sit at the forefront of a fast growing fascination with all things analogue, the collective have previously released via Hypercolour and ART, as well as running an infamous synth shop in Hackney Wick – supplying to a host of well known musicians and modular fanatics alike. For the first time this year, they will be head to Dimensions Festival, finessing The Void speakers on the Saturday night, as well as sharing their expertise with a workshop in the Knowledge arena – more details on that here. For those who'd like to see the LMA gang this summer, final tier tickets to Dimensions Festival, taking place 30th August through until September 3rd are still available via the website: www.dimensionsfestival.com/tickets.
Take a peek at the inside world of London Modular via Vinyl Factory: https://www.youtube.com/watch?v=dpkoT8Ho5Og