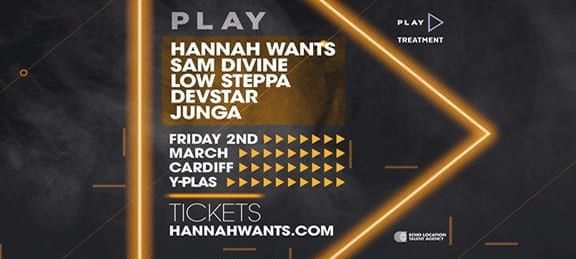 Hannah Wants – Play – Cardiff
Play is a dark, raw and authentic tour, which will project hannah's artistic progression and prospective musical vision. Maintaining her bass house roots but exhibiting her developing style.
An elite selection of new and established djs have been chosen by hannah to showcase their skills alongside her across the tour. Promising to unveil new talent as well as highlight credible artists, play is sure to bring a series of revolutionary raves for everyone to enjoy.
---
An innovative curator of a multi-paletted range of sub-genres, Hannah Wants has established herself as one of dance music's most forward-thinking DJs in her career so far. Since amassing various accolades including both DJ Mag and MixMag's 'Best Breakthrough DJ' in 2014, 2015 and 2017 DJ Awards winner for Best Bass DJ and most recently being publicly voted as DJ Mag's prestigious Best DJ in 2017, the Birmingham producer has amassed a huge following through her bass influenced, dark house sounds. Dipping into her old hard drives to find old gems that can still make a huge impact on the dancefloor, Hannah's relentless drive to stay at the top sees her regularly search across various platforms to find more techy, minimal and deeper pieces that can fit into her sets.
After launching her highly successful 'What Hannah Wants' tours in recent years following her BBC Radio 1 Essential Mix and subsequent BBC Radio 1's Residency, Hannah re-branded her tour under the 'PLAY' name in 2017, aiming to give fans a true taste of her dancefloor-upbringing, adding: "PLAY delivers what I believe to be the ultimate clubbing concept. If you want the red carpet and bottle service, then it isn't for you. I'm from a background of underground raves and venues and PLAY aims to capture a similar dark, raw vibe with a focus on the DJ, the music and the crowd."
Following the success of the tour, Hannah also decided to launch her sister project 'PLAYground', delivering a series of raw raves to the smallest, most intimate venues across the UK,where the crowd and DJ feel as one. Remaining faithful to her core fanbase Hannah has continued to deliver her bi-monthly mixtapes and remains a huge presence in Ibiza, with performances at Ibiza Rocks, Pacha, Sankeys and a fourth consecutive summer residency at Amnesia.
"I'm super excited to be back releasing music in 2018," says Hannah . "My upcoming releases are my favourite solo productions to date and have been working the dance floors to great effect for me over the past few months. Everything evolves and now I've dropped down a couple of BPM and sit playing heavily bass influenced house and tech, but anything can inspire me and give me an idea for a tune."
Beginning her 2018 PLAY Tour in Cardiff in March, Hannah will also play dates across Liverpool, Newcastle, Edinburgh, Bournemouth, London, Bristol, Brighton, Leeds, and Dublin; with a selection of International DJ's as support as well as talented up-and-coming DJs handpicked by Hannah herself as part of her nationwide DJ talent search competition. Following which, Hannah will also be returning to America in 2018 with a national tour in April and culminating at this summer's Coachella festival.
A DJ, producer, and tastemaker of the highest order 2018 looks set to mark Hannah's biggest year so far with the UK producer kicking things off with a special NYE performance at The Warehouse Project in Manchester ahead of her upcoming fresh new releases. Her first single of the year is set top drop on Simma Black in February.
---
---
Hannah Wants – Play – Cardiff
Y Plas in Cardiff
Friday 2nd March 2018
10:00pm til 4:00am (last entry 1:00am)
Minimum Age: 18