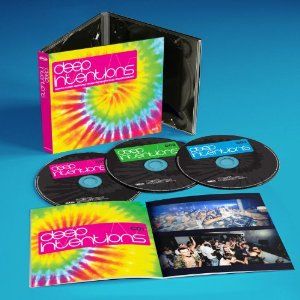 HARMLESS pres. DEEP INTENTIONS
Following the smash catalogue releases 'Traxbox' and 'Terry Farley Presents Acid Rain', Harmless records are pleased to present 'Deep Intentions', which switches the focus from classics to the current resurgence in house music's popularity, and the new tracks now referred to as deep house.

2013 saw the Deep Intentions nights at the forefront of the next generation underground London house scene, building popularity and routinely selling out some of the biggest venues in the capital.

Here's footage of Deep Intentions in full swing at Egg London: bit.ly/1jDRsZi

Compiled by Deep Intentions resident DJ Deeper Purpose (aka Steve Galloway), this album collects 24 of the biggest dance-floor anthems from the last 6 months across 2 CDs, plus a bonus 75 minute mix CD from Deeper Purpose.

Deep Intentions maintains Harmless' track record for high quality releases (both in audio and packaging); this 3CD set comes in unique tie-die design, with a booklet containing exclusive photos from the Deep Intentions nights over the last 6 months.