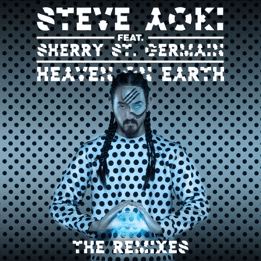 Steve Aoki - Heaven On Earth Remix EP
Steve Aoki continues his Neon Future musical journey with the debut of his official music video for 'Heaven On Earth' feat. Sherry St. Germain, from his most recent full-length album – Neon Future Odyssey. The music video showcases live performances of the pair from ToworrowWorld and LAoki.
To coincide with the video is the release of the remix EP for 'Heaven On Earth', which features re-workings by Dutch house duo Blasterjaxx, California-based producer Ookay, LA beat maker Rickyxsan and British live dance outfit South Central.
Listen and buy here: http://smarturl.it/HeavenOnEarthRMXs
About Steve Aoki
Steve Aoki is a Grammy-nominated international producer/DJ, electronic dance music entrepreneur, and founder of the trendsetting record label, events/lifestyle company and apparel line Dim Mak. Since launching in 1996, Dim Mak has broken bands such as Bloc Party, The Bloody Beetroots, Klaxons, and The Gossip through deftly marketed single and full-length releases and now has nearly 500 releases to date. As a solo artist, AOKI has become a force of nature averaging over 250 tour dates per year. AOKI's second artist album NEON FUTURE I, was released September 30, 2014 via Dim Mak/Ultra Music and features his Gold certified single "Delirious (Boneless)" with Chris Lake and Tujamo featuring Kid Ink, "Born To Get Wild" featuring will.i.am and "Rage The Night Away" featuring Waka Flocka Flame. The second part of his Neon Future album, NEON FUTURE II, was released on May 12, 2015 and features collaborations with Linkin Park, Matthew Koma, Snoop Lion, Rivers Cuomo and NERVO, plus a very special appearance by creative genius J.J. Abrams who voices the outro to close the album. AOKI is also serving as an Executive Producer and soundtrack curator of The Nerdist's first feature film acquisition The Hive. Directed by up-and-coming writer and director David Yarovesky and produced by Cary Granat ofScream 2 and Scream 3 fame, the film was dubbed by Guardians of the Galaxy director James Gunn as "the most horrifying and disgusting love story ever." The Hive is out now digitally.
For more information on Steve Aoki, please visit:
http://steveaoki.com/
https://www.facebook.com/Steve.Aoki
https://twitter.com/steveaoki
https://soundcloud.com/steveaoki
For more information on Dim Mak Records, please visit:
http://www.dimmak.com/
https://www.facebook.com/dimmak
https://twitter.com/dimmak
https://soundcloud.com/dimmakrecords
For more information on Ultra Music, please visit:
http://ultramusic.com/
https://www.facebook.com/ultramusic
https://twitter.com/ultrarecords
https://soundcloud.com/ultrarecords