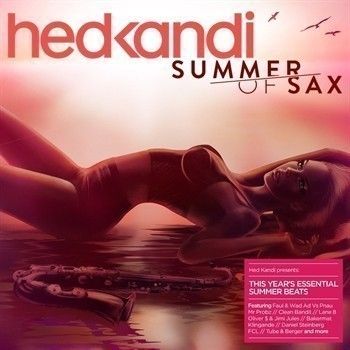 Hed Kandi Summer of Sax
Hed Kandi brings you Summer of Sax, a brand new concept that offers fans the perfect soundtrack to end the summer. Sax infused house has always been a sound close to Hed Kandi, with our very own saxophonist Lovely Laura gracing Es Paradis and Café Del Mar every Saturday, it has always been a sound that has defined many of Hed Kandi's lavish parties around the world.

2014 has seen a huge surge in popularity of this summer sound and who better to offer a handpicked selection of these essential balearic beats than Hed Kandi.

Featuring number 1 anthems that have inspired music lovers worldwide, including Faul & Wad Ad & Pnau's 'Changes' and Mr Probz's 'Waves' along with other chart reaching artists, Clean Bandit, Kingande, Bakermat and FCL. Summer of Sax also features a sprinkling of future anthems from the likes of Oliver $ & Jimi Jules, Daniel Steinberg and Lane 8.

Whether you're watching the sunset at Café Del Mar or gazing at the sunrise after a night on the dancefloor, Summer of Sax is the essential collection of summer beats from Hed Kandi.