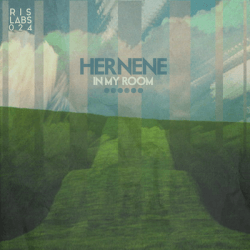 Hernene – In My Room EP
Artist collective Rock It Science Laboratories (RIS Labs for short) has hit the ground running since the label's relaunch this summer, having moved its headquarters from San Francisco to Los Angeles. Their first signing, Give In, was featured on XLR8R and Thump, subsequently having his cover of Claude VonStroke's "Califuture" signed to Dirtybird. Each release since has continued to build momentum for this quickly developing crew, with the slamming nu-disco single "Don't Give It Away" by Les Professionnels and most recently Eric Sharp's Wait Just Wait EP setting the internet ablaze.
Continuing in its mission to break new artists, RIS Labs' latest offering is the In My Room EP by Hernene, a brand new production project from a seasoned Los Angeles-based producer. More info about this mysterious wizard will be revealed in due time, but for now all you need to know is that his tracks are straight deep house fire.
The release rolls in with "Rainy Dayz", an uplifting jam despite its title that conjures images of gloom. Here Hernene makes delightful use of a sampled vocal hook, classic house percussion, warm pad stabs, and an undeniable bass groove. "Roly Poly" follows, wasting no time getting loose with its infectious sequencing built around a nasty piano chord progression, Arps, a walking bass line, and more deft pad work.
"Rainy Dayz" gets reenergized with two remix treatments. The first is a dark, sophisticated bass-heavy rub from Whitney Fierce who goes above and beyond what's due by adding in her own sultry vocals alongside the original samples. Next, Les Professionals take us for a long drive with a techier version built around a modulated synth line. This rework is a long crescendo, perfect for those weirder late night hours. Finally, Low Tide come through with a more haunting and evolved version of "Roly Poly" for those who like songs to unfold in deep, melodic waves. With that, RIS Labs wraps up another successful experiment.